DOW Filmtec BW30HR-440i RO Membrane 12650 GPD






Weight:
15 LBS.
Dimensions:
4x40
HR
SKU: DWC68
Description:
BW30HR-440i membrane
Price:

$790.00

HRLE
SKU: DWC68-LE
Description:
BW30HRLE-440i Low Energy membrane
Price:

$790.00

Quantity discounts:

| | |
| --- | --- |
| Quantity | Unit Price |
| 1-5 | $790.00 |
| 6-11 | $775.00 |
| 12+ | $764.00 |

Ships in 1-2 weeks



---
DOW Filmtec BW30HR-440i RO Membrane 12650 GPD
, a 8" x 40" high rejection brackish water Reverse Osmosis Membrane with iLEC(tm) Interlocking Endcaps that can provide RO quality water up to 12,650 gallons per day at a 15% recovery rate. It can operate at feed pressures ranging from 225 psi to 600 psi with 99.7% salt rejection. It has a 440 ft² active area that delivers the highest quality permeate water while minimizing CAPEX and OPEX. This element offers the the most effective cleaning performance for large-scale industrial and municipal water treatment systems purifying greater than approximately 10 gpm (2300 L/h) of RO water and is the industry standard for reliable operation and production of RO water in commercial applications. These elements are ideal for reverse osmosis plant managers and operators dealing with controlled pre-treatment waters and seeking consistency, high performance, long element life, increase productivity, higher water quality coupled with excellent fouling resistance and reduced footprint installations.
Filmtec elements can separate salts from water and are produced with an automated fabrication process for precision, consistency, and reliability offering high rejection of dissolved solids and organics and operate very efficiently at lower pressures. It delivers the most effective cleaning performance, robustness and durability due to its widest cleaning pH range (1-13) tolerance. The 440 square feet of active membrane area, gives system designers the option of designing a system with fewer membrane elements, requiring lower capital expenditures for membranes and components. This element is widely used in industrial water demineralization, production of municipal drinking water and water reuse.


Recommendation: convert BW30-440i (discontinued) to BW30HR-440i ; Low Energy version is SKU: BW30HRLE-440i .
Key Features and Benefits: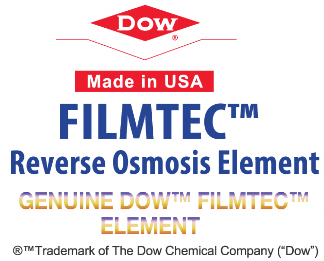 12,650 Gallons per day.
440 sq ft active area.

600 psi maximum operating pressure.
Removes chemical contaminants.
Reduce wastewater volumes by increasing water reuse.
High flux results in high yields.
Low energy costs with high rejection providing good water quality.
Hard shell exterior for extra strength.

Durable with Good Cleanability for Long Element Life.
DOW FilmTec high quality, long lasting and reliable performance.
Includes iLEC™ interlocking end caps, reducing system operating costs and the risk of o-ring leaks that can cause poor water quality.
Specifications
Model/SKU:

DWC68 , DWC68-LE

Manufacturer ID(Part#):

BW30HR-440i
BW30HRLE-440i

Dimensions(Diameter x Length):

8 x 40(actual 7.9 x 40)

Stabilized Salt Rejection:

99.7%

Permeate Flow Rate(Gallons per Day, gpd):

12,650 Gal/Day(gpd)

*

Maximum Feed Flow Rate (Gallons per Minute, gpm):

85 gpm (19.3 m³/hr)

Applied Pressure(psi):

225 psi (15.5 bar)

Maximum Operating Pressure(psi):

600 psi (41 bar)

Maximum Pressure Drop(psi):

15 psi (1.0 bar)

Maximum Operating Temperature(°F):

113°F (45°C)

pH Range, Continuous Operation:

2 - 11

**

pH Range, Short-Term Cleaning:

1 - 13

Maximum Feed Silt Density Index(SDI):

SDI 5

Free Chlorine Tolerance(ppm):

< 0.1 ppm

***

Membrane Style:

Drop-in Element

Membrane Material:

Spiral-wound with Polyamide Thin-Film Composite

Active Area:

440 ft² (37 m²).

****

Outer Wrap:

Hard fiberglass outer shell

Housing/Pressure Vessel Size(inch):

8 inch
*

Permeate flow rate and salt rejection based on the following test conditions: 2,000 ppm NaCl, 225 psi (8.6 bar), 77°F(25°C), pH 8, 15% recovery. Permeate flow rates for individual elements may vary +/-15%
.
**
Maximum temperature for continuous operation above pH 10 is 95°F (35°C).
***

Under certain conditions, the presence of free chlorine and other oxidizing agents will cause premature membrane failure. Since oxidation damage is not covered under warranty, Dow recommends removing residual free chlorine by pretreatment prior to membrane exposure. Most RO systems have carbon pre-filters for this purpose


****

Active area guaranteed ±3%. Active area as stated by Dow Water & Process Solutions is not comparable to nominal membrane area often stated by some manufacturers.
PRODUCT NOTES:
- Individual elements with iLEC endcaps measure 40.5 inches (1,029 mm) in length (B). The net length (A) of the elements when connected is 40.0 inches (1,016 mm).
- Stabilized salt rejection is generally achieved within 24-48 hours of continuous use; depending upon feedwater characteristics and operating conditions.
- Proper start-up of reverse osmosis water treatment system is essential to prepare the industrial membrane elements for operating service and to prevent membrane damage due to overfeeding or hydraulic shock.
- Before initiating system start-up procedures, membrane pretreatment, loading of the membrane elements, instrument calibration and other system checks should be completed.
- During prolonged system shutdowns, it is recommended that the Dow Filmtec membrane elements be immersed in a preservative solution. This is to prevent biological growth.
(To ensure proper product startup and usage, please review Operation Guidelines and General Information section from the Product Data Sheet.)