DOW Filmtec SW30-8040 RO Membrane 6000 GPD
Brand:
DOW Filmtec
SKU:
DWC87
Price: $1,165.00
Quantity discounts:
| | |
| --- | --- |
| Quantity | Unit Price |
| 1-5 | $1,165.00 |
| 6-11 | $1,156.00 |
| 12+ | $1,150.00 |
Dimensions: 8" x 40"
Weight: 45 lb
DOW Filmtec SW30-8040 Seawater Reverse Osmosis Membrane
, an 8.0" x 40" RO membrane element that can provide RO quality water of up to 6,000 gallons per day at a 10% recovery rate. It can operate at feed pressures ranging from 800 psi to 1,015 psi with 99.1% salt rejection. This Seawater RO element is ideal for use in medium-sized desalination systems that produce less than approximately 10 gpm (2300 L/h) of permeate. The SW30 membrane element offers the highest quality water output from seawater and highest productivity while maintaining excellent salt rejection. This reliable performance is the result of improved membrane combined with automated, precision element fabrication.
Product discontinued by manufacturer. Closest alternative is DWC88 - SW30HR-380.
The SW30 Elements have one of the highest flow rates available to meet the water demands of both sea-based and land-based desalinators. SW30 elements may also be operated at lower pressure to reduce pump size, cost, and operating expenses. Dow's fully automated and precise element production enables the most consistent products in the industry for the most consistent product performance available. This product is best for seawater desalination and marine(yacht) applications.

Key Features and Benefits: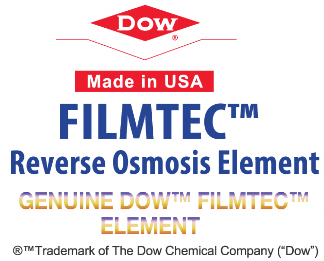 6,000 gallons per day.
1,015 psi max operating pressure.
SW30 elements provide longer life due to high cleanability.
High Salt rejection for high quality permeate.
High flux reduces energy used and pressure required.
Good rejection provides good water quality.
Dow Filmtec performance and quality.
Wet Sea Water Membranes
Specifications
Model/SKU:
DWC87
Manufacturer ID [Part#]:
SW30-8040
Dimensions(Diameter x Length, inches):
8.0 x 40 inches(actual 7.9 x 40)
Stabilized Salt Rejection, Range(min-max%):
98.6% - 99.1%
Permeate Flow Rate(Gallons per Day, gpd):
6,000 gpd (22,710 L/day or 22.7 m³/day)
*
Maximum Feed Flow Rate [gpm (m³/hr)]:
60 gpm (14 m³/hr)
Maximum Feed Turbidity:
1 NTU
Maximum Operating Temperature(°F):
113°F (45°C)
Applied Pressure(psi):
800 psi (55 bar)
Maximum Operating Pressure(psi):
1,015 psi (69 bar)
Maximum Pressure Drop(psi):
15 psi (1.0 bar)
pH Range, Continuous Operation:
2 - 11
**
pH Range, Short-Term Cleaning:
1 - 13
Maximum Feed Silt Density Index(SDI):
5 SDI
Free Chlorine Tolerance(ppm):
< 0.1 ppm
***
Membrane Style:
Drop-in Element
Membrane Material:
Polyamide Thin-Film Composite
Feed Spacer:
28 mil
Active Area(sq.ft.,
ft²)
:300 ft² (28.0 m²)
Outer Wrap:
Hard fiberglass outer shell
*

Permeate flow rate and salt rejection based on the following test conditions: 32,000 ppm NaC, 800 psi(55 bar), 77°F(25°C), pH 8 and 10% recovery.. Permeate flow rates for individual elements may vary +/- 20%.
**
Maximum temperature for continuous operation above pH 10 is 95°F (35°C).
***

Under certain conditions, the presence of free chlorine and other oxidizing agents will cause premature membrane failure. Since oxidation damage is not covered under warranty, Dow recommends removing residual free chlorine by pre-treatment prior to membrane exposure. Most RO systems have carbon pre-filters for this purpose.
PRODUCT NOTE:
-
Proper start-up of reverse osmosis water treatment system is essential to prepare the industrial membrane elements for operating service and to prevent membrane damage due to overfeeding or hydraulic shock.
- Before initiating system start-up procedures, membrane pretreatment, loading of the membrane elements, instrument calibration and other system checks should be completed.
- The use of this product in and of itself does not necessarily guarantee the removal of cysts and pathogens from water. Effective cyst and pathogen reduction is dependent on the complete system design and on the operation and maintenance of the system.
- During prolonged system shutdowns, it is recommended that the Dow Filmtec membrane elements be immersed in a preservative solution. This is to prevent biological growth.
-

(To ensure proper product startup and usage, please review Operation Guidelines and General Information section from the Product Data Sheet.)
Product is not rated.