Frequently Asked Questions
Q: Which water filter is right for me?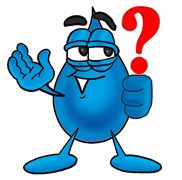 A:
You need to evaluate your water and set a budget.
Q: Which filters you have can remove

chlorine

?
A:
Chlorine is a number 1 contaminant in municipally treated water. Therefore, almost every filter we carry removes chlorine. All residential point of use (under sink, and counter top) and whole house systems, and commercial systems that have regular or granular activated carbon do. On residential side, unless filter specifically says it "removes contaminant X only", if it has carbon or is multi-stage it is designed to remove chlorine.
Q: Which credit cards do you accept for payment?
A:
We accept most major credit cards, including Visa, MasterCard, American Express and Discover.
Q: What other payment options can I use?
A:
For more payment options, please consult our
Ordering information
page. We also provide financing for products over $500.
Q: I've noticed some of your product cost $1000-$2000 and more. Why is it so expensive?
A:
Large Whole House and light Commercial systems can be in this price range and higher. These products are manufactured by ISO 9001 certified factory and use high end, NSF certified media and components. We also automate our systems as much as possible (for instance they have automatic backwash controller when listed on product page) so after it is installed, you have minimum maintenance. If you want healthy, clean water, you may already have been buying water bottles. At $1.50/bottle , if you buy two bottles per day, you are spending $1000/year on it. Our systems will last 8-10 years and more, offering you great purified water at significant savings. Our products are priced lower than a local competitor such as Culligan. We also offer
Equipment Financing
, whereby a $1000 system may cost as low as $30/month (see
financing page
for more details).
Q: Do you provide secure checkout?
A:
Our checkout and payment sections use highest encryption possible, with SSL certificate from Comodo. We use one of the largest and most trusted web payment gateways Authorize.net to process orders.
Q: Do you ship to Alaska or Hawaii?
Q: Do you ship internationally?
A
: Yes. We do not ship to most of Eastern Europe, Africa and Asia. Consult
shipping info
page, or
contact us
with details.
Q: Where are your shipping rates?
Q: How can I track my order?
A
:
Login
into your account to see tracking information, update your shipping address and print receipts.
Q: Where can I find Return policies?
A
: Consult our
Returns
section of Policies page.
A
: All products carry standard manufacturer's warranty. You can read more about this in the
Warranty
section of Policies page.
Q: How can I contact you?
A
: Best way to contact us is to send email or call the number on
contact us
page.
Q: Why should I buy from you, compared to places like Amazon?
A:
We are one of the largest online distributors of water purification products. Our staff has decades of experience in the industry. We select quality products, American-made where possible, with NSF-certified components. Our products have been tested and they do work. We've been online over 10 years, we answer calls and emails, and provide quality replacement cartridges for water purification systems you've purchased even 10 years ago. Amazon sells very few water purification products themselves, it is 3-rd party merchant marketplace. Although you can find good products on it, merchants that sell on Amazon are usually small, home-based businesses with unknown product quality, and usually very limited experience in the industry. You will get no support from Amazon themselves and may have hard time finding replacement filters in a few years. Lower priced product from an unknown seller now may cost you significant grief in the future.
Q: Do you offer promotions or discounts?
Q: Which water filter brands do you carry?
Q: I am buying a gift for someone and I am lost. Help!
Q: I tested your countertop system with a TDS meter, and it doesn't work!
A
:
TDS meters
measure Total Dissolved Solids, and they are only good to identify if a Reverse Osmosis system works, or for areas with high hardness level. Outside of Reverse Osmosis and water softening, filters usually do not affect TDS in a significant manner. Typically, the largest portion of a TDS reading is calcium, which is a beneficial mineral. Your countertop system works, it just isn't designed to remove calcium - which is the right way to do filtering.