Single Undersink Water Filter that provides clean drinking water and also removes Fluoride. A stylish, convenient, and effective unit that fits under practically any kitchen sink. Fluoride water filter layer contains fine-mesh pre-resin media (SIR-900) to reduce fluoride below 0.5 ppm and also effectively reduces arsenic and lead. This system uses our state of the art 6-stage MULTI-Plus filter with an additional fluoride removal stage.
How Under Sink Fluoride Filter Works:
In stages 1 and 7, water travels through 1 micron pads
In stage 2, water flows through fluoride removal media
In stages 3 and 5 water travels through Eagle Redox Alloy media ( also known as KDF )
In stage 6, water flows through a granular activated carbon ( GAC )
Undersink Fluoride Water Filter features: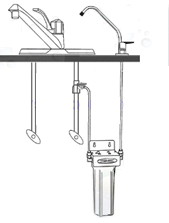 Capacity: up to 10,000 gallons of regular filtration
Up to 2,700 ppm fluoride removal (average 600-900 gallons) with effluent levels below 0.2 ppm from 10 ppm feed.
Easy to use and install under in standard kitchen.
Comes with attractive faucet and all necessary installation hardware.
Recommended flow rate for best fluoride reduction: 0.3 - 0.5 gallons per minute
Recommended filter cartridge replacement interval: 1-2 years
Mft part number: CQE-US-00315
This unit comes with a MULTI-Plus multi-stage filter with a fluoride removal stage. If you need fluoride removal only, a fluoride removal cartridge is also available for the same price (see below). Please specify during checkout.
Comes with a saddle valve for easy installation on copper lines. For flex tubing, T-valve is required, please add a note during checkout.