NEW:
The
eXact Micro 20 Photometer
is a ground-breaking dual-wavelength electronic water tester that can test for over 30 different water contaminants with lab quality accuracy at the lowest cost on the market. Unit self-calibrates and automatically selects the optimal wavelength for each water testing parameter. Incorporated into eXact Micro 20 Tester is a patented EZ-3 Reagent Delivery Method for simplified testing for both technical and NON-technical users.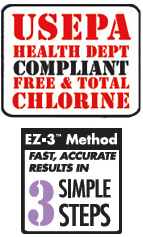 This Handheld Water Tester is ideal for residential, commercial, and municipal water testing
.
EPA, ISO and DIN Compliant
testing method for Free & Total Chlorine. It is a dual wavelength (525 nm and 638 nm) photometer uses patented technologies for faster, safer, easier and more precise water testing.
eXact Micro 20 Photometer is sold in two different kits, Standard and Well Driller Kit, with instructions and reagents. Additional reagents can be purchased separately, see below.
How to Use eXact Micro 20 Photometer:
1. Turn the meter on and select an appropriate test by pressing MENU button.
2. Remove a test strip for chosen test from the bottle. Don't forget to recap the bottle immediately.
3. Rinse the CELL, which is located in the top of the meter, at least 3 times with water to remove residue and prevent cross-contamination. Finally, fill it with 4 ml of water sample.
4. Zero meter - press ZERO button until 0.00 ppm is displayed. Sample is ready for testing.
5. Dip strip into a water sample in a CELL, and immediately press READ button to start reading. This will start a 20 second countdown. Move strip back and forth in water sample. Remove and discard when timers shows 1.
6. Read the results.
With a 4 mL sample cell it's environmental friendly using less chemicals than regular 10 ml tests or most other electronic testers. The meter provides accuracy you can rely on, minimum variation, and fast results (uses 20 second test method) at 0.01 resolution.
Exact Micro 20 Standard Kit 486700-K Includes

:

Exact Micro 20 Well Kit 486700-WD Includes

:

one eXact Micro 20 meter

eXact Strip Micro 0.01 - 6.0 ppm (mg/L) DPD-1 ( Free Chlorine )

eXact Strip Micro DPD-3 ( Combined Chlorine )
Mini Dilution Kit II
1 cell cleaning brush
Instructions
Plastic carrying case

1 eXact Micro 20 Meter (486700)
Micro DPD-1 Test strips, 25, Free Chlorine (486637-25)
Micro DPD-3 Test strips, 25 Combined Chlorine (486638-25)
Micro BT-pH Test strips, 25 (486652-25)
Total Alkalinity Test strips, 25 (486641-25)
Copper Test strips, 25 (486632-25)
Nitrate Test strips, 25 (486655-25)
Manganese Test packets (486606)
Total Hardness Test strips, 25 (486673-25)
High Range Chlorine Test strips, 25 (486672-25)
Total Iron, TPTZ Test strips, 25 (486650-25)
Mini Dilution Kit II (487202)
1 Mixing Cap, Plastic Stirrer
1 Cell Cleaning Brush
Instruction Booklet
Plastic Carrying Case
eXact Micro 20 Dual Wavelength Photometer Specifications:
Over 30 Direct read parameters

0.01 ppm (mg/L) precision

Built-in, permanent cell


(no loose glass or plastic cells; simply fill or dip into water)

Automatic countdown timer

1008 test memory

(saves last 20 tests per menu)

Incorporates eXact Strip technology


(safe & reliable reagent dispersion)

No-slip grip housing

Lightweight

(weighs only 6 oz with batteries installed)

Waterproof meter (IP-67) & flo

ats

Easy-to-read LCD display

Environmentally friendly

(recyclable parts & uses 60% less reagents than 10mL sample tests)

Proprietary optics

(allow for accurate testing without cap, though available)
US EPA

Compliant meter for Free & Total Chlorine
2-year warranty with satisfaction guarantee
U.S. Patent #7,333,194
Manufacturer's product number: 486700-K, 486700-WD