Categories
By Contaminant
Brands
Library
Help & Info
Testimonials
Water filters really work! You guys are the best!
read more
Iron and Manganese Whole House Filter Dual










Brand: Crystal Quest

Dimensions: 54"x10"
Weight: 200 lb.




Ships in 3-5 days


Filter cartridge(s) included.


Email




Product
SKU
Description
Price
Order

1.5 cu.ft

CQE-WH-01199

1-3 Bathrooms

Capacity: 750,000 gallons

10"x54" each tank

$2,500.00

2 cu.ft.

CQE-WH-01200

Capacity: 1,000,000 gallons

12" x 52" each tank

$3,100.00

Air Infusion

CQE-WH-01200-AI

3.5-6 Bathrooms,

6+ ppm iron

Capacity: 1,000,000 gallons

12" x 52" each tank

$3,450.00
Description
A combination of a Iron, Manganese and Hydrogen Sulfide Removal and A Whole House Water Filter. This unit works in situation where water has iron content and / or rotten egg odor, and a high quality water filtration is desired.
A backwashing system comes in 2 different sizes for smaller or larger homes.

Water travels through 6 stages of filtration: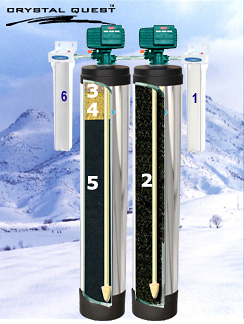 First,

water travels through a 20" sediment cartridge that removes sediment, silt, sand and dirt. Also this extends the life of water softeners and water filters, and prevents damage to control valves or pumps.

Next

, water travels through a 1.5 or 2.0 cubic foot tank that has Iron, Manganese and Hydrogen Sulfide removal media, with an Automatic Microprocessor Control valve (The longer amount of time that the water is in contact with the media, the more effective is the conditioning and filtering of the water.)

In stages 3 through 5

, water travels through a patented KDF redox media ERA-9500 and ERA-6500, and GAC (Granular Activated Carbon) tank. This is our standard whole house filter unit that is capable of removing hundreds of contaminants from water (if present).

Finally

, water travels through a 20" solid carbon cartridge for a final conditioning of the water and removing any remaining contaminates and VOC's which may be in the water.
Both tanks are automatically backwashed into a drain or outside. There are no harsh chemicals, the system is environmentally friendly!
With proper installation, system can remove up to 15 ppm of both ferric and ferrous Iron, 05 ppm of Hydrogen sulfide (rotten egg smell), up to 10 ppm of manganese and produce clear , clean drinking water throughout the house! Make sure your pH is above 6.5 , if it is lower, you need to neutralize the pH before it passes through the system with an
Acid Neutralizer System
.
If iron is above 6 ppm, we highly recommend Air Infusion version
, which is installed on the Iron removel tank and uses additional component for higher iron levels.
Iron and Hyrdogen Sulfide Whole House Filter Dual features:
Double backwash capability
Iron, Manganese, Sulfide and Whole House Filter Filter System properties:

Sediment filter cartridge and Solid carbon cartridge life: 6-8 months
Iron and Manganese media replacement after: 1.5 cu.ft - 5-7 years, 2 cu.ft - 7-8 years