Single Nitrate Removal Undersink Water Filter, which is stylish, convenient, and effective. Contains a special nitrate-selective resin, and a 6-stage water filtration media in attractive, single cartridge system. Nitrate reduction is 90%-95% and is not affected by sulfate levels.
Undersink Nitrate Water Filter features: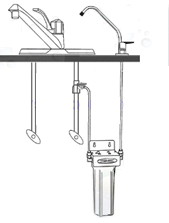 Capacity: up to 3,000 ppm nitrates as NO3.
Easy to use and install under in standard kitchen.
Comes with attractive faucet and all necessary installation hardware.
Recommended flow rate: 0.5 gallons per minute
Crystal Quest Under sink Nitrate Water Filter. Made in USA
To calculate nitrate removal capacity, first get nitrate ppm (mg/L) as NO3. Then deivide 3000 by that number to get approximate gallons. Filter life will be slightly longer.
Replacement filter:
Nitrate multi-stage cartridge,
CQE-RC-04050
Filter life:
approx. 1 year.
Mfg prod. #: CQE-US-00322 , CQEUS00322, CQE US 00322