Undersink Water Filter with Fluoride Removal, Single
by CRYSTAL QUEST is your solution. This is a one-cartridge,
7-stage
filtration system that clears your drinking water from fluoride and hundreds of other impurities. It is infused with a special media, the
CQ-900
, that is designed to remove not only fluoride but also lead and arsenic. The added combination of
Coconut Shell Carbon
or
Granulated Activated Carbon(GAC) and Eagle Redox Alloy
media increases the systems' effectivity in removing hundreds of other contaminants from your tap water. Undersink water filter systems do not add clutter to your kitchen as it works behind visibility. This compact, single cartridge system is your best option for fluoride removal and other contaminants from your drinking water.
Fluoride
is commonly known to be used on dental products. It is a naturally occurring element which is present in water and soil at varying levels. Municipal water treatment plants commonly add fluoride to the water for prevention of tooth decay and maintain a regulated concentration for safety. Today, fluoride has found its way to our homes in more ways you can imagine. From dental products to food, beverages, medicines and even utensils that cause an increase of fluoride content in food. The last thing you want is fluoride in your water.
Fluoride
may cause health problems if present in public or private water supplies in amounts greater than the drinking water standard set by EPA. According to the EPA, exposure to excessive consumption of fluoride over a lifetime may lead to increased likelihood of bone fractures in adults, and may result in effects on bone - leading to pain and tenderness.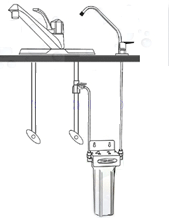 Key Features and Benefits:
•
7 Stages of filtration.
• Infused with
Aluminum Oxide media
for fluoride, lead and arsenic removal.
• Combined with advanced
Coconut Shell Carbon(GAC) and KDF
media technology.
• Compact system that fits neatly under your kitchen sink.
• Filter media combination removes hundreds of contaminants.
• Easy install, comes with an attractive faucet and hardware's for setup.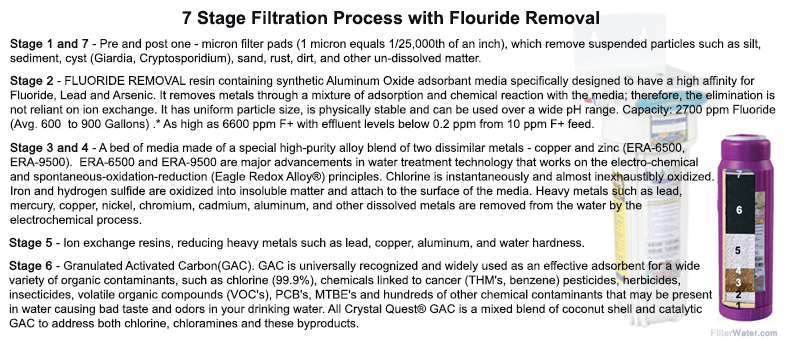 Contaminants Reduced:
Specifications:

Model/SKU:

CQ-W12F-PLUS

Manufacturer ID:

CQE-US-00315

Dimensions(LxHxW):

5"x14"(10"+4" to change cartridge)x5"

Filtration Capacity(gallons):

10,000

Filtration Removal Capacity:

2700 ppm Fluoride (Avg. 600 to 900 Gallons)*

Design Flow Rate(Gallons per Minute, gpm):

0.3 - 0.5 gpm

Micron Rating:

25 nominal

pH Range:

4-10, optimum performance at 5 pH

Filter Life(months):

12-24 months(will vary upon usage)

Weight(lbs):

10
* As high as 6600 ppm F+ with effluent levels below 0.2 ppm from 10 ppm F+ feed
PRODUCT NOTE:
- Comes with a saddle valve for easy installation on copper lines. For flex tubing, T-valve is required, please add a note during checkout.
- If you need fluoride removal only, a fluoride removal cartridge is also available for the same price (see replacement parts below).