Categories
By Contaminant
Brands
Library
Help & Info
Testimonials
Water filters really work! You guys are the best!
read more
Dual Undersink Water Filter, 7-Stage






Brand: Crystal Quest

Dimensions: 14" x 10" x 5"
Weight: 9 lb.




Ships in 2-3 days


Filter cartridge(s) included.


Email


| | | | | |
| --- | --- | --- | --- | --- |
| Product | SKU | Description | Price | Order |
| PLUS | CQE-US-00306 | Filters 10,000 gallons | $125.00 | |
| ULTRA | CQE-US-00307 | Filters 20,000 gallons | $145.00 | |
| ULTIMATE | CQE-US-00308 | Filters 30,000 gallons | $165.00 | |
Description
Dual Undersink Water Filter, 7-Stage -
two cartridge filtration system by CRYSTAL QUEST(Also known as Mega 2000). This Undersink Water Filtration System saves kitchen countertop space and employs a multistage cartridge with a solid state water filter that uses the latest technologies in blending the adsorption capabilities of coconut shell activated carbon(GAC) with Eagle Redox Alloy and more. Another cartridge designed into this system, Solid Carbon, removes volatile organic carbon compounds (VOC's, insecticides, pesticides and industrial solvents). Its 7-stage filtration process eliminates hundreds of impurities from tap water giving your family a continuous supply of pure, great tasting and healthy drinking water. The perfect solution for any household, apartment or office.
Quick, easy to install and use! The whole system is attractive, convenient and effectively removes many contaminants from water. Can also be installed on refrigerators/ice makers(requires this optional
hook-up
, sold separately).
Key Features and Benefits: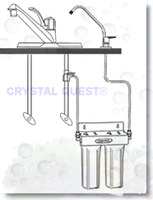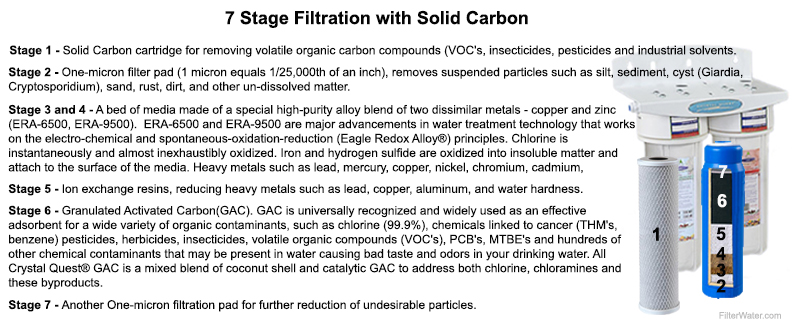 Filter Configurations:
SKU
Filtration Capacity
Filter Life

Undersink-W13-PLUS

[

CQE-US-00306]

*(CQ-RC-PL-10, CQE-RC-04002)
10,000 gallons
1-3 years

Undersink-W13-ULTRA

[

CQE-US-00307]

*(CQ-RC-UL-10, CQE-RC-04003)
20,000 gallons
2-4 years

Undersink-W13-ULTIMATE

[

CQE-US-00308]

*(CQ-RC-UM-10, CQE-RC-04004)
30,000 gallons
3-5 years
Specifications:

Dimensions(LxHxW):

10"x14"(10"+ 4" to change cartridge)x5"

Operating Temperature (°F):

40°F - 90°F

Operating Pressure(PSI):

20 psi - 60 psi

Design Flow Rate(Gallons per Minute, gpm):

0.5gpm(suggested)

Solid Carbon Filter Life:

6-9 months

Fitting Size(inches):

1/4"(Also available in 3/8")

Weight(lbs):

9 lbs

End Caps:

Polypropylene #5

Inner/Outer Wraps:

Polyolefin

Netting:

Food Grade High-density Polyethylene

Gaskets:

Buna-N
PRODUCT NOTE:
- System comes with a faucet, 1/4" water line to connect it to supply, and installation hardware.
- On installation, if current under sink plumbing is hard copper tubing the saddle valve would be used; for flex tubing the T-valve would be required. Please specify in Notes on the Shopping cart screen at checkout if you have a preference, otherwise you may get one or the other.


** Another available system that does not include a faucet is the Voyager Undersink Inline Filter Series(CQE-IN-00306, CQE-IN-00307 and CQE-IN-00308).