Single-filter undersink water filtration system. Water travels through 6 stages of filtration to eliminate the impurities of tap water. Quick and easy to install, attractive and convenient, eliminates hundreds of contaminants from water.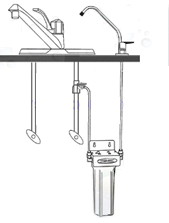 This solid-state water filter uses the latest technologies that blend absorption capabilities of coconut shell activated carbon with REDOX. 6-stage single cartridge water filter that is installed under the counter.
6-stage Under Sink Water Filter features:
1

0.75 to 1 gallon per minute

PLUS: 10,000 gallons (replace every 1-2 years)
ULTRA: 20,000 gallons (replace every 2-4 years)
ULTIMATE: 30,000 gallons (replace every 3-5 years)
Manufacturer: Crystal Quest. Crystal Quest 6-stage undersink water filter.
Manufacturer Product Numbers: PLUS - CQE-US-00303 , ULTRA - CQE-US-00304, ULTIMATE - CQE-US-00305