Undersink Water Filtration System with single cartridge. Water travels through 6 stages of filtration to eliminate the impurities of tap water. Quick and easy to install, attractive and convenient, eliminates hundreds of contaminants from water. Also known as Mega 1000.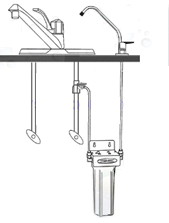 This solid-state water filter uses the latest technologies that blend absorption capabilities of coconut shell activated carbon with REDOX. 6-stage single cartridge water filter that is installed under the counter.
6-stage Under Sink Water Filter features:
1

0.75 to 1 gallon per minute

PLUS: 10,000 gallons (replace every 1-2 years)
ULTRA: 20,000 gallons (replace every 2-4 years)
ULTIMATE: 30,000 gallons (replace every 3-5 years)
Under sink system comes with a faucet, 1/4" water line to connect it to supply, and installation hardware. We can provide T-valve for under sink metal flex tubing, or a Saddle valve if water line is hard copper. Please specify in Notes on the Shopping cart screen at checkout if you have a preference, otherwise you may get one or the other.
Manufacturer: Crystal Quest. Crystal Quest 6-stage undersink water filter.
Manufacturer Product Numbers: Mega 1000, PLUS - CQE-US-00303 (Undersink-W12-PLUS), ULTRA - CQE-US-00304 (Undersink-W12-ULTRA), ULTIMATE - CQE-US-00305 (Undersink-W12-ULTIMATE).