CRYSTAL QUEST
Water Cooler/Reverse Osmosis Granulated Activated Coconut Shell Carbon (GAC) Filter Cartridge
is a replacement filter cartridge for Bottleless Water Coolers and Reverse Osmosis systems. It is one of the stages applied for multiple filtration processes and is responsible in removing volatile organic carbon compounds (VOC's), insecticides, pesticides and industrial solvents which are known to cause health issues.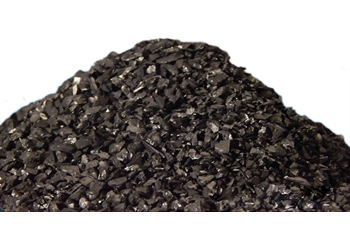 Carbon is extremely porous and provides a large surface area for contaminants to collect. Carbon-only filters exhausts their capacity to remove chlorine resulting to a shorter filter life. Other carbon filters use a
bituminous coal carbon
, which is good at removing chlorine, but not as effective at removing chemicals. We use a
high-grade coconut shell carbon
that is most effective at removing chemicals. Coconut shell carbon provides a significantly higher volume of micro-pores than either coal, wood or lignite based carbon. As a result, it is more effective than other carbon types in removing trihalomethanes (THM's) and other chemicals from municipally supplied water. Since our REDOX media removes the chlorine before it reaches the carbon, the carbon capacity is not wasted on chlorine and is free to concentrate more effectively on organic contaminants.
GAC
(Coconut Shell Carbon) is universally recognized and widely used as an effective adsorbent for a wide variety of organic contaminants, such as chlorine (99.9%), chemicals linked to cancer (THM's, benzene) pesticides, herbicides, insecticides, volatile organic compounds (VOC's), PCB's, MTBE's and hundreds of other chemical contaminants that may be present in water that cause bad taste and odors in your drinking water.
This filter can be used with our line of CRYSTAL QUEST® bottle-less water coolers, and also in Thunder Reverse Osmosis Water Filter Systems. It has built-in connectors and can be attached directly to existing systems with a standard 1/4" line.
Specifications:

Model/SKU:

CQE-RC-04038

Filter Dimensions:

13"x3", total dimensions with connectors: 15"x3"

Connectors:

1/4" quick connect fittings, built in.

Filter Life:

6-24 months

A proprietary NSF-certified media is added to the Coconut Shell Carbon or GAC to make filter bacteriostatic and increase filtration capacity.
Old Model Number:

WCF-18-G-2