This is a "no maintenance", "no filter to change" refrigerator water filter, that is designed to for use on refrigerators with ice-maker and/or water through the door. This is a 6,000 gallon model that can be used with almost any refrigerator brand. It is installed on the water line that is connected to your fridge.
Easy to install, convenient and effective. High pressure quick-connect fitting can be used on either 1/4'' o.d. copper or plastic tubing.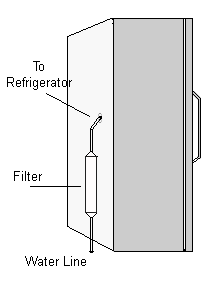 Inline Refrigerator Water Filter installation
In line Refrigerator Water Filter offers:
4-stage water filtration
fits almost any refrigerator brand
post 5-micron filtration for bacteria, rust and sediment removal
KDF filtration for 99%+ chlorine removal
GAC filtration for organic contaminants removal, as well as chemicals, pesticides, VOCs, bad taste and odor removal
This in-line water filter can also can be used on water fountains, water coolers and coffee makers.
Filtration capacity: 6,000 gallons (replace every 1-2 years).
Micron rate: 5 nominal
Water flow rate: 1-1.5 gallons per minute
Mfg number: CQE-RF-00703