A combination of a Whole House Arsenic Removal and A Whole House Water Filter. This unit works in situation where an arsenic reduction is desired, along with a high quality water filtration. Capable of completely removing or reducing arsenic below 10 ppb from as high as 50 ppb (10 ppb is an EPA Maximum Level).
An automatically self-backwashing system comes in 2 different sizes for smaller and larger homes. Removes both types of arsenic, III and V.
Water travels through 6 stages of filtration: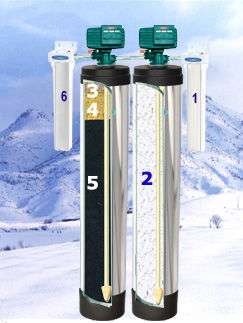 Arsenic Whole House Filter Dual Features
Arsenic Reduction Filter System properties:

Sediment filter cartridge and Solid carbon cartridge life
: 6-8 months
Arsenic media
remove after: 1.5 cu.ft - 5-7 years, 2 cu.ft - 7-8 years

Will remove both types of arsenic, III and V.
Made in USA.