Eagle Anti-Scale Systems and Saltless Water Conditioner CQE-WH-02130
is a new technology which transforms the calcium and magnesium carbonate (hardness) of the water into mechanically stable and heat resistant calcite crystals (nanometer size) which no longer cause lime deposits.
The calcium and magnesium
crystals are simply rinsed away.
How Anti-Scale Water Conditioner Works
Calcium and magnesium carbonate (hardness)
creates scale in pipes, on appliances and other plumbing surfaces.
This leads
to higher heating and energy costs and expensive repairs to appliances.
Scale can also be a source for bacteria
to grow, which can be a health concern in drinking water applications.
It also remove the already existing scale from pipes and heat exchanger surfaces (descaling effect) and further protect the system from future formation of scale (scale protection effect).
Crystal Quest CQE-WH-02130 Eagle Anti-Scale Water System Features and Benefits:
Complete scale prevention in all pipes, on appliances and other plumbing surface exchangers.
100% removal of old calcium deposits in all pipes, on appliances and other plumbing surface
Formation of a layer for corrosion prevention
No electricity required
Easy installation and setup
No salt, chemicals or regeneration
No backwashing means no wasted water and no drain to install
Perfect where salt-based softeners are banned or undesired
Nearly maintenance free.
The media works with a catalytic surface. Once water contact occurs the nanocrystalls on the ceramic surface of the media create calcium crystals from the positive calcium ions. These calcium crystals are neutral and can not attach to any surfaces. This applies to pipes, appliances, water heaters as well as machinery surfaces.
This works with cold water as well as with hot water. The nano sized crystals are rinsed away by the water flow. All harmful characteristics of the calcium are neutralized.
The important health advantages of the calcium and magnesium remain intact because the crystals dissolve at a pH of 3 and are then available to the body.
Eagle 1000AS and Removal of existing calcium deposits
The calcium crystals which are rinsed away by the water can not attach to any surfaces.
But due to the nano structure of the crystals they have same a similar function to the Eagle Anti-Scale media.
It binds additional calcium to itself and therefore breaks the grid binds structure of the calcium deposits.
The result is that even after a short time large pieces of deposits are removed. This process continues until the surface is free from deposits.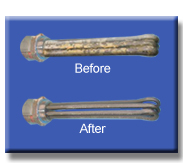 Formation of a corrosion preventing layer After the old calcium deposits are removed a 30 to 80 micron thick corrosion preventing layer is formed. This layer forms because of the reaction of the nano surface of the crystals and the metallic surface of the pipes. This is comparable to the green layer of verdigris on a copper roof. As soon as the protective layer is formed it can no longer grow bigger but it creates complete protection.
TDS (Total Dissolved Solids) will still measure presence of calcium in water (calcium is not removed by the device, but transformed to prevent scale build-up).
Anti-Scale Water Filter System and Saltless Water Conditioner specifications
Crystal Quest Eagle 1000AS Anti-Scale systems make it easy to enjoy healthy, better-tasting water Crystal Quest Eagle Anti-Scale are engineered for maximum performance with minimal maintenance.
Crystal Quest Eagle Anti-Scale systems are the most comprehensive and cost effective systems available today.
Crystal Quest Eagle Anti-Scale systems easily handle the tough water problem.
They deliver softerwater and trouble free operation for many years.
Crystal Quest Eagle Anti-Scale systems offers your family safer, cleaner, better tasting water.
It removes impurities that can stain your sinks, showers and tubs, ruin your clothes, corrode your plumbing and appliances and offend your taste buds.
Eagle 1000 AS Water Conditioner has 4 stage filtration:
First stage

, Water flows through a 20" sediment filter cartridge that removes sediment, silt, sand and dirt. Also extends the life of the filter media and prevent damage

In stage 2

,water flows through Crystal Quest Eagle Anti-Scale media tank.

In stage 3

,water flows through a 20" solid carbon cartridge for removing volatile organic carbon compounds (VOC's, insecticides, pesticides and industrial solvents

In stage 4

, water passes through a .01 micron Ultrafiltration (UF) membrane. Ultrafiltration (UF) is an important purification technology used for the production of high-purity water. UF is effective for the removal of colloids, proteins, bacteria, viruses, parasites, protozoa and pyrogens (e.g., gram-negative bacterial endotoxins), other organic molecules larger than .01 micron, and most other water contaminants known today.
Waste no water, uses no electricity
Easy Filter Changes
8 GPM service flow
Available in 3/4" and 1" NPT nput/output
Easy to replace Anti-Scale media

(4 liters)

approximately every 2 to 3 years