Eagle 2000A Automatic Home Water Filter










Price: $1,645.00 - $1,845.00


Brand: Crystal Quest

Dimensions: 54"x10"
Weight: 200 lb.




Ships in 3-5 days


Filter cartridge(s) included.


Email



Product
SKU
Description
Price
Order

1.5 cu.ft

CQE-WH-02111

Capacity: 750,000 gallons.

Flow rate: 9-11 gpm.

$1,645.00

2.0 cu.ft

CQE-WH-02108

Capacity: 1,000,000 gallons.

Flow rate: 11-13 gpm.

$1,845.00
Description
Eagle 2000A Full-Size Automatic Whole House Water Filter
is a 14 stage Ultrafiltration system and a significant upgrade over Multi-Media and Carbon filters. This unit is our flagship product, delivering healthy, better-tasting water for your family to any faucet in your home. Stages of filtration is distributed into 3 20"x2.5" filter cartridges and 1 full sized tank with a multi-stage process. The pre-configured 20" cartridges includes the Sediment filter, Solid Carbon and the Ultrafiltration membrane which helps removes a large number of contaminants known to be present in city or well water.
The CRYSTAL QUEST Eagle Water Filter 2000A-FG POE/Whole House Automatic Whole House Ultrafiltration system is engineered for maximum filtration and maximum performance with minimum maintenance. The tank is installed with an advanced programmable controller for an automatic cleaning. The Solid State Microprocessor with LED display Electronics control valve is a self-backwashing system that automatically removes the trapped contaminants within the filter bed and washes them down the drain. Great for home, office or light commercial use!
Key Features and Benefits:
14 stage filtration.
2 product variants to suit your needs.
Simple, User friendly, easy to program and dependable.
Solid State Microprocessor Electronics control valve.
Automatic and programmable self-backwashing control system.
Easy to replace resin media.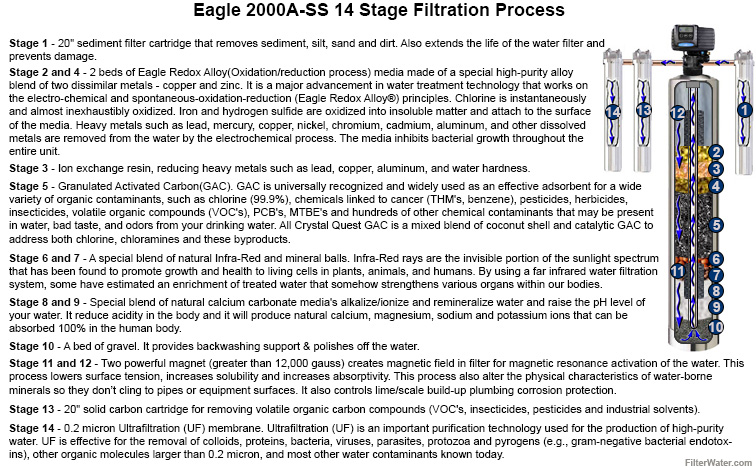 Product Variants

Model/SKU

Tank Size

Capacity(gallons)

Flow Rate


Resin/ft³

Media Replacement




CQE-WH-02111

10" x 54"

750,000 gal

9 - 11 GPM


1.5

5 to 7 years


CQE-WH-02108

12" x 52"

1,000,000 gal

10 - 13 GPM


2.0

7 to 10 years

General Specifications:

Dimensions(inches):

20x2.5(Filter Housing)

Operating Temperature(°F):

40°F(5°C) - 100°F(38°C)

Operating Pressure(psi):

30 psi - 60 psi

Tank:

Poly Glass(Polyester Fiberglass)

Controller:



Solid state microprocessor with LED display Electronics control valve.


Flow Distributor(Internal):



1" Riser style


Bypass Valve:



3/4" or 1" Stainless Steel


Filter Life(months):

Sediment and Carbon Block(6-9 mos)

Fittings(inch):

3/4" and 1" NPT input/output

End Caps:

Polypropylene #5

Inner/Outer Wraps:

Polyolefin

Netting:

Food Grade High-density Polyethylene

Gaskets:

Buna-N
| | |
| --- | --- |
| | |
| Electronic Control valve | Stainless Steel bypass valve |
Please

specify water line diameter at Checkout

!
PRODUCT NOTE:
- The system connects to the main line of your home.
- Requires only periodic backwash to keep unit in top condition.- Fully shipped with filtration media already in the tank.
- 10 year Warranty on Poly resin or Stainless tank.
- 5 year warranty on Computer Monitored control valves.
- Manufactured from FDA-compliant materials.