The New Century by Rainshow'r, a non-cartridge shower filter removes toxic chlorine from your shower with the best in style & technology. The result is better skin conditions, more manageable hair and reduction of itches and rashes. It is the most environmentally correct filter because it uses less plastic and lasts longer. It has been tested and certified by the Water Quality Association and meets NSF Standard 177 for performance.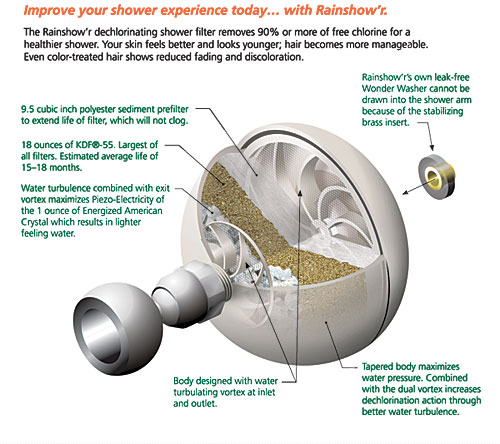 Healthier, Younger Looking Skin
Softer, More Manageable Hair
Reduces Fading of Color-treated Hair
Relief From Dry Skin and Scalp
Improved Lathering and Sudsing
Great for Those With Chlorine Sensitivity
18 oz of KDF-55 Largest Shower Filter
Converts Chlorine into a harmless soluble chloride through a KDF filament.
Crystalline quartz for energy enhanced shower "feel" and better lathering.

WQA Gold Seal, tested to NSF #177certified to 30,000 gallons.

18 oz KDF-55, Highest of all

Energized crystals and large pre-filter

time contact media maximize to engineered

Eco friendly - only 4.5 oz plastic with recycling program

Non-cartridge type with extended life

Installs in seconds, use existing shower head.

Filter cartridge lasts 15-18 months, depending on usage.
One year warranty on filter body and 90 days on filter cartridges.
Filter body can last 3 years or more
Brand: Rainshow'r
Used with the water saving Bernoulli Power Shower head, it combines eco-consciousness with a healthy and invigorating shower experience.
Rainshow'r brings you the most innovative shower head available, the Bernoulli shower head. Part of the Rainshow'r Signature Series of products.
The first shower head specifically designed for use with a shower filter

Italian-influenced design employs the scientifically recognized Bernoulli principle of pressure changes in fluids at increasing flow rates.

Building this principle into the Bernoulli allows a very strong water spray combining air and water without the needle-like
feeling of other shower heads.

Solid brass (6.7 oz) shower heads crafted by American workers in the United States.

Fits all standard American plumbing. Conforms to U.S. Energy Policy Act — 2.5 GPM at 80 psi

First U.S. made fixed-action shower head introduced to the American market in over 20 years.

The only shower head of its type. Beautiful and simple design comes in five different finishes to match almost any bathroom decor. A wonderful showering experience with half the water.

A 2.5 GPM spray that feels like 5GPM

• Save Water
• High Power Shower Spray
• Quality Construction
• Made in the USA
• Simple and Beautiful Design
• Perfect for use with shower filters
Rainshower Shower Filters also have a layer of Crystalline Quartz, which is sun dried quartz crystals. Manufacturer suggests that they "energize" the water by reducing the water surface's tension.
Whatever your concerns are, Rainshower filters are top-quality shower filters that are capable of significantly reducing harmful chlorine in water. You will also enjoy benefits of "softer" water.