Water Softener
with a brine tank that can use traditional salt (sodium) or potassium for regeneration. Uses Fleck control valve for automatic backwash to improve water softener's performance.
Water is hard when it contains minerals like magnesium and calcium. You may see staining on your sinks, tubs, showers, and clothing. Water softening means expanding the life span of household machine, such as laundry machines, and the life span of pipelines. Keeps skin and hair healthy looking Dishes are cleaner, with less soap and hard water spotting. Tubs, showers, and sinks are easier to clean, thanks to reduced hard water build-up. Clothes are softer, cleaner, brighter, and last longer.
The System will keep all fixtures from scaling and corrosion and will also save time, money and energy. Towels washed in water softened by Crystal Quest water softeners need 1/3 less detergent and come out 45% whiter.

This system can also be used in commercial applications, such as Car Washes, Manufacturing and Window Cleaning where water is hard and there's a need to eliminate white spots and streaks.
Water Softener System Design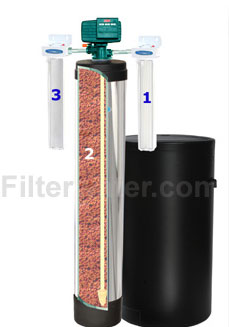 Traditional Water Softener
is designed to soften and filter drinking water in your home or business.
Water travels through 3 stages:
First stage

, water flows through a 20" sediment cartridge that removes sediment, silt, sand and dirt. Also extends the life of water softeners and water filters, and prevents damage to control valves.
Second stage

, water flows through an ion exchange mineral tank and brine water conditioner that contains cation resin media
Third stage

water flows through a 20" solid carbon cartridge for removing volatile organic carbon compounds (VOC's), insecticides, pesticides and industrial solvents.
Hard water causes a higher risk of lime scale deposits in household water systems.
Due to this lime scale build-up, pipes are blocked and the efficiency of hot boilers and tanks is reduced. This increases the cost of domestic water heating by about fifteen to twenty percent. Another negative effect of lime scale is that it has damaging effects on household machinery, such as laundry machines. It also contributes to the improved working, and longer lifespan of solar heating systems, air conditioning units and many other water-based applications. Water is softened or conditioned by replacing hard ions like magnesium and calcium with softer sodium or potassium ions.
Water softeners must be regenerated regularly
, renewing their ability to remove hardness from water. This unit has a Time-initiated regeneration via an electronic controller that can be set up when softening capacity is predicted to run out. Based on your hardness and water usage, this can be every 3-5 days or even every 1-2 weeks. Regeneration takes 30 minutes and will run water backwards through the system down the drain.
Deliver trouble free operation for many years with reliable service.
Self-Backwashing Water Softener Specifications
Self-backwashing microprocessor Control system

that automatically removes the trapped contaminants within the filter bed and washes them down the drain.

By-pass valve

Low voltage transformer

Easy to replace resin media

Poly Glass™ mineral tank

filled with high capacity ion exchange resin.

Brine water mineral

exchange tank.

Riser style

1" internal flow distributor.

Solid state microprocessor

with LED display Electronics control valve
11.0 gallon-per-minute

flow rate

.
3/4" or 1"

Stainless Steel Bypass Valve

.

Chrome

sleeve/jacket -

Polyester

fiberglass tank.
10 year

Warranty

on resin tank and brine tank assembly
30 Day

Money Back Guarantee

5 year

Warranty

on all Computer Monitored control valves

Fleck electronic control valve.
NSF certified components
Filter Life:
1.5 cu.ft - 5-7 years, 2 cu.ft - 7-8 years
Product numbers: CQE-WH-01123 , CQEWH01123 , CQE-WH-01124 , CQEWH01124