Jupiter Biostone Filter
SKU:
JP-BIOSTONE (146)
Weight:
2 lb.


Email
Biostone Plus Filter
for
Jupiter Aquarius, Orion, Melody, Microlite, Mavello and UltraTechnos
Water Ionizers.
Filter
contains layers of Tourmaline and Coral Calcium inside an antibacterial carbon block
filter
. This unique filter with advanced filtration stages is made in USA specifically for Jupiter Water Ionizers. It helps naturally ionize and clean water before it enters ionization chamber.
THIS PRODUCT IS NOT AVAILABLE.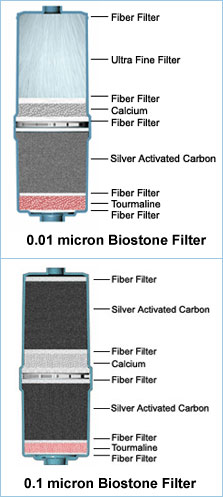 Tourmaline crystal is known to be a beautiful, semi-precious gem. As a mineral it also became a focus of scientific research. It was found by researches in Japan that even broken into pieces, Tourmaline crystals always maintained a positive and negative electrodes.
The stone is used for anti-bacterial qualities. Inside your
filter
it transforms water into a mild alkaline water. Other qualities of Tourmaline crystal are used in your
Biostone filter
to reducing water cluster size and minimizing odor.
Biostone Filter for Jupiter Ionizers Features:
Jupiter
Biostone Filter
is available in 0.1 micron Regular, or 0.01 micron Ultra size
Biostone Filter features
Silver-coated Activated Carbon
stage that filters out chlorine, trihalomethanes, phenols, sediment, odor, sour taste, organic waste, lead, pesticides and bacteria of all kinds.
Filter also has a Calcium layer to neutralize pH and acidic water
If you are ordering a Biostone filter for Ultra Technos, older Mavello, Regency 2 or Masterpiece please add a Note during checkout. These units used an older charcoal cartridge wich is no longer sold. Quite often it can be replaced by a regular
0.1 micron
Biostone filter

(not 0.01 micron)
, but will require a body of slighly different size. If your filter has a tip on both ends, and water can freely get through it (the tip at the top isn't covered with a cap), you should be able to use a
Biostone filter
.
An LED indicator on the front panel gives an approximate indication of remaining water filter life.
Filer Life: 9 months, or 1000 gallons, whichever comes first