CRYSTAL QUEST
Shower Filter Cartridge
is a reversible cartridge that purifies water through
3-stages of filtration
. This filtration process helps remove chlorine, chloramines, VOCs, THMs, pesticides, sulfur, heavy metals, hydrogen sulfide (rotten egg smell), iron oxide (rust water), dirt, sediment, and other odors... plus, it is pH balanced!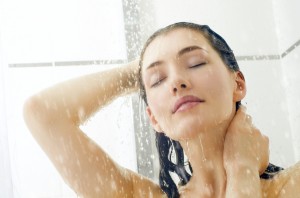 It works in the shower by filtering the water through each stage of
ERA-6500, ERA-9500
and then
Coconut Shell Granular Activated Carbon(GAC)
giving you and your family the healthiest, most refreshing shower experience ever. Bathing water that goes through these media will give you smoother, softer skin and hair that is less dry. Your tub and shower area will be cleaner too! The unique drop-down filter design allows for a substantial amount of filtration media enabling more contact time with the water. More contact time means better filtration. Periodic reversing of the cartridge not only ensures balanced filtration and eliminates the potential for channeling, but also back-flushes the cartridge as it is filtering. This replaceable cartridge fits in different CRYSTAL QUEST shower filters and makes maintenance simple and affordable.
3-Stage Filtration Process.

Uses advanced

Eagle Redox Alloy 6500 and 9500 media.

Uses

Coconut Shell / Granular Activated Carbon(GAC)

to further remove chlorine.
Healthier skin and hair.
No more inhalation of chlorine, toxic and dangerous chemicals.
Reduces chlorine that can cause dry skin and split ends.
Eliminates virtually all hydrogen sulfide and rotten egg smell.
Long filter life.
Specifications:

Model/SKU:

CQ-LSP-RC

Manufacturer ID:

CQE-RC-04045

Dimensions:

3 inches (length) x 2-1/3 inches (outside diameter)

Media:

Eagle Redox Alloy 6500 and 9500 Media, Coconut Shell Carbon(GAC)

Operating Flow Rate:

2.5 gallons per minute(recommended)

Filter Life(months):

12 months *
* Cartridge life is directly related to your water conditions and volume of water filtered. Local conditions may require more frequent replacement.
Warranty Guarantee: 1 year limited warranty


Other Manufacturer ID's: CQERC04045, CQE RC 04045, LSP-RC, LSPRC, CQ-LSP-RC, CQLSPRC, LSP RC