Commercial Lead Removal Water Filter System










Price: $2,630.00 - $26,600.00


Brand: Crystal Quest


+ Freight Shipping Charges

Dimensions: 48x26x73




Weight: 530 lb. or more




Ships in 1-2 weeks





Email


| | | | |
| --- | --- | --- | --- |
| Product | SKU | Price | Order |
| 14 GPM | CQE-CO-02174 | $2,630.00 | |
| 20 GPM | CQE-CO-02175 | $3,840.00 | |
| 35 GPM | CQE-CO-02176 | $4,725.00 | |
| 60 GPM | CQE-CO-02177 | $7,375.00 | |
| 75 GPM | CQE-CO-02178 | $10,640.00 | |
| 185 GPM | CQE-CO-02179 | $18,580.00 | |
| 200 GPM | CQE-CO-02180 | $23,400.00 | |
| 280 GPM | CQE-CO-02181 | $26,600.00 | |
Description
Commercial Lead Removal Water Filtration Systems are designed for outstanding performance and long life cycle. Can be used on a 1.5"-3" water lines and up to 280 GPM flow. Designed with top performance and ease of maintenance in mind and can be used for commercial and industrial applications where a high-performance lead reduction system is desired.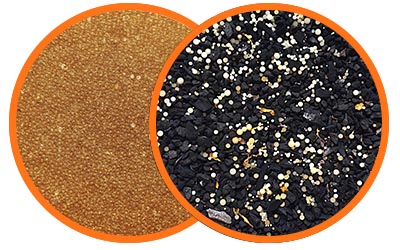 Commercial Lead Removal System uses a mixed bed media. Primary media is an ion exchange media that requires periodic regeneration. Please check table below to calculate size and capacity.
System Features:
Industry leading Fleck backwash and regeneration control
Heavy duty structural tanks - Poly Glass mineral tank
All brass, motor driven control valve with fully adjustable regeneration cycles (on units with electronic control valve)
Self adjusting backwash control
Flow controller to limit backwash flow
Engineered for commercial and industrial use
Optional skid mounting for tanks
Available water flow is between 14 GPM and 280 GPM (gallons per minute).
5 year Warranty
on all Fleck control valves.
10 year Warranty
on media tank.
These units are heavy! LTL Freight shipping out of Atlanta, Georgia.

Table below will help you to identify system for your application. Look for water line size (Pipe Size) and Service Flow in gallons per minute (GPM), and choose an appropriate model. Peak flow is what tank is capable of at peak times.


Exchange

Capacity, (Grains)

@ 15 # / Ft3
90,000
120,000
210,000
300,000
450,000
600,000
900,000
1,200,000
Model
CQE-CO-02174
CQE-CO-02175
CQE-CO-02176
CQE-CO-02177
CQE-CO-02178
CQE-CO-02179
CQE-CO-02180
CQE-CO-02181

Pipe Size

1.5."
2"
2"
2"
3"
3"
3"
3"

Service Flow, GPM

14

20

35

60

75

185

200

280

Peak Flow, GPM

22
41
60
95
140
250
270
360
Fleck Valve
2850
2900
2900
3150
3900
3900
3900
3900
Resin, cu.ft.
3
4
7
10
15
20
30
40
Mineral Tank Size, in.
14x65
16x65
21x62
24x72
30x72
36x72
42x72
48x72
Backwash Flow, GPM
5
7
12
15
25
35
50
65
Space Required, in. (WxDxH)
48x26x73
50x26x84
56x26x75
64x32x87
79x41x90
85x41x90
94x44x90
114x50x96
Shipping Weight, lbs
530
650
930
1270,
2 pallets
1840,
2 pallets
2480,
3 pallets
3740,
3 pallets
4880,
3 pallets