Shower Hose Filter PSHF1 that can be attached to any hand-held shower handle. Get filtered water in the shower and keep your favorite hand held shower head!
Shower head and shower hose not included
. Available in Chrome only. Restores natural softness to skin, scalp and hair by removing harsh drying chemicals from water.
Paragon Shower Hose Filter PSHF1 features: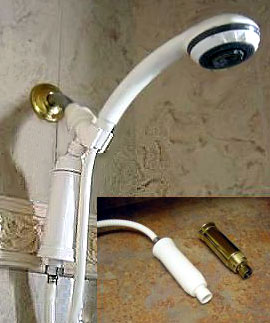 Removes up to 99% of Chlorine from your water for 5,000 to 30,000 gallons
Reduces hydrogen sulfide
Eliminates bad taste and odor
Reduces calcium and soap film build-up
May help reduce acne and enzema
Build-in swivel attachment so you can position the filter anywhere you like
Shower Hose Filter SFSHFCH Compatible with most hand held shower head models. Installs in seconds, no tools required. Warning: use only in microbiologically safe water (city or chorinated water).
Anyone who has ever swam in a chlorinated pool realizes how harsh is chlorine on your skin and hair. What most people don't know is that typically there's as much or more chlorine in tap or shower water than there is in the pool. Chlorine strips natural protective oils from skin, causing excess dryness, and sometimes redness and itching. Free chlorine also evaporates and you breath it in the shower. With a chlorine-removing Paragon Shower Filter PSHF1 you will notice significant cosmetical improvements - softer skin and silk hair! By elimination of chlorine and other chemicals from your shower with Paragon shower filters you will significantly reduce health risks that are caused by exposure to VOCs and THMs.
PSHF1 Paragon Integrated Shower Filter Capacity: 5,000 gallons or 6 months.
This filter has no replacement cartridge.