Standard 10"x2.5" 6-stage GAC KDF Water filter cartridge. Cartridge consists of one-micron filter pad, KDF55, KDF85, GAC, ion exchange resin, and another one-micron pad. Removes hundreds of contaminants from your drinking water. Main workhorse cartridge for Crystal Quest conter top and under sink systems.
How Crystal Quest Multi-Stage Cartridge works
Stage 1
: water flows through 1 micron filter pads (1/25,000th of an inch), which remove suspended particles such as silt, sediment, cyst (giardia, cryptosporidium), sand, rust and other non-dissolved matter.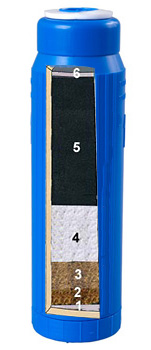 Stages 2 and 3
: a mix of high purity alloys copper and zync (Eagle Redox Alloy ® 6500 and Eagle Redox Alloy ® 9500). The mix is NSF-cerified, and a major advancement in water treatment technology. It works via electo-chemical and spontaneous-oxidation-reduction (REDOX) principles. Chlorine is instantaneously and almost inexhaustibly oxidized. Tests of Eagle Redox Alloy show 99+% reduction of chlorine past 20,000 gallons of water. In comparison, carbon cartridges of comparable size drop their effectiveness below 90% past 4,000 gallons. Other contaminants are also oxidized, such as iron and hydrogen sulfide. Once contaminants are oxidized into isolluble matter, they attach to the media surface. Heavy metals such as lead, mercury, copper, nickel, chromium, cadmium, aluminum, and other dissolved metals are removed from the water by the electrochemical process. They also get attracted to the surface of the media. Chromium such as hexavalent Chromium IV oxide ( chromium-6 ) will also be removed.
The other advantage of Eagle Redox Alloy is that the media is bacteriostatic, i.e. it prevents bacteria from growing instide the cartridge. This eliminates the need for silver, which is a common additive to carbon filters.
Stage 4
: ion exchange resin, which reduces heavy metals such as lead, copper, aluminum, and reduces water hardness.
Stage 5
: granulated activated carbon (GAC). GAC is universally recognized and widely used as an effective adsorbent for a wide variety of organic contaminants, such as chlorine (99.9%), chemicals linked to cancer (THM's, benzene) pesticides, herbicides, insecticides, volatile organic compounds (VOC's), PCB's, MTBE's and hundreds of other chemical contaminants that may be present in water, bad taste, and odors from your drinking water. Because chlorine is removed in stages 2 and 3, carbon capacity isn't exhausted by chlorine and has is available to work more effectively on organic contaminants.
Stage 6
: another 1 micron pad.
6-Stage GAC KDF Filter Cartridge specifications
Filtration capacity:

Type
Manufacturer's Product Number
Replace
PLUS

CQE-RC-04002

(old # CQ-RC-PL-10 )

10,000 gallons (replace every 1-2 years)
ULTRA

CQE-RC-04003

20,000 gallons (replace every 2-3 years)
ULTIMATE

CQE-RC-04004

30,000 gallons (replace every 3-4 years)
The main difference between 3 cartridges is the amount of KDF / Eagle Redox media ( which is a mix of copper and zinc ) used. Less expensive cartridge will have more charcoal and less Redox, and more expensive cartridges will have more Redox.
Filter Size: 10 by 2.5 inches (actual size 9 3/4 x 2 7/8 inch)