Categories
By Contaminant
Brands
Library
Help & Info
Testimonials
Water filters really work! You guys are the best!
read more
eXact iDip Photometer Water Tester










Brand: ITS

Dimensions: 6.5" x 2" x 1 3/4"
Weight: 1 lb.




In stock




Email


| | | | | |
| --- | --- | --- | --- | --- |
| Product | SKU | Description | Price | Order |
| Photometer only | ITS-IDIP | | $179.99 | |
| Well Starter Kit | ITS-IDIP-WD | Photometer and 6 well water tests | $315.00 | |
| Tap Starter Kit | ITS-IDIP-TW | Photometer and 7 tap water tests | $315.00 | |
Description
The new
eXact iDip Water Meter
is the best way to run a quick direct test to your drinking or pool water. It tests your water for over 20 contaminants and syncs the result wirelessly utilizing its Bluetooth Smart Wireless technology, storing test data to a compatible smart handheld device such as Apple(iPhone, iPad, iPod Touch) or numerous Android devices. Results can be shared via email and a built-in GPS feature allowing easy retrieval by location.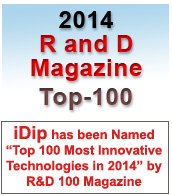 US EPA Compliant testing method for Free & Total Chlorine
when used with DPD strips, testing for Total Alkalinity, Bromine, Calcium Hardness, Free Chlorine, Total Chlorine, High Range Chlorine, Total Iron, Copper, Ozone, Permanganate, pH and more for 30+ direct read contaminants and over 40 tests total, can be easily done on the spot. Tests can be done repeatedly with lab test accuracy! It's a great starter water tester for residential, commercial, pool and municipal water testing.
Requires test strips for each specific test (unit comes with a small sample of tests). See
Replacement Parts
section below or go directly to
this page
for available strips.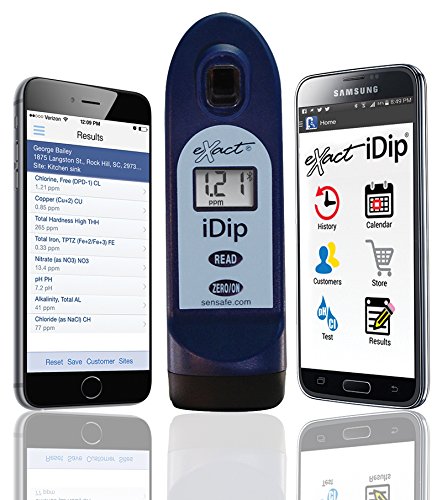 Compatible Devices
- Apple iPhone
(4s, 5, 5C, 5s, 6)
- Apple iPad
(Mini, Mini Retina, 3rd gen, 4th gen, 5th gen, Air, Air 2, Pro)
- Apple iPod Touch
(5th gen and up)
- Android OS 4.3 Jellybean or newer with Bluetooth 4.0 - available in Google Play Store.

In Stock and Ready to Ship!!!


Key Features and Benefits:
Built-in, permanent cell (no loose glass or plastic cells; simply fill or dip into water)
Bluetooth Smart wireless technology (saves directly to iPhone, iPad or similar device)
Uses eXact Strip technology (simple, safe & reliable reagent dispersion)
No-slip grip housing
Easy-to-read LCD display
Environmentally friendly(recyclable parts & uses 60% less reagents than 10mL sample tests)
Proprietary optics(allow for accurate testing without cap, though available)
Automatic calculation method for Langelier Saturation Index (LSI)
Instant, documented results that can be emailed or exported via .csv file (spreadsheet)
FilterWater.com
offers these 2 different pre-configured kits:
eXact iDip Tap Water Reagent Starter Kit
and
eXact iDip Well Driller Starter Kit
, which comes with exactly what's needed to start testing. Packed in a rugged and durable plastic case with secure closing fasteners and padded compartment.
Specialty Kits:


eXact iDip Tap Water Reagent Starter Kit

eXact iDip Well Driller Starter Kit

1 bottle 25 tests of each:

1 bottle 25 tests of each:

Total Alkalinity, High Range Total Hardness, pH, Free Chlorine (DPD-1), Total Chlorine (DPD-4), High Range Chlorine, and Metals

Total Alkalinity, Total Iron, pH, Nitrate, High Range Total Hardness


SKU: 486101-TW

SKU: 486101-WD
Specifications:

Model/SKU:

ITS-IDIP

Manufacturer's product number:

486691-K

Precision:

0.01 ppm (mg/L)

Bluetooth(version):

4.0

Wavelength:

525 nm

Material Type:

Plastic

Color:

Blue

Item Weight:

2 pounds

Overall Height:

4.25 inches

Overall Length:

7.25 inches

Overall Width:

2.25 inches

Batteries:

4x AAA batteries

Test Specific Reagents(Over 35 available): *




Ammonia, Bromine, Calcium (as CaCO3), Chloride/Salt, Chlorine Dioxide, Chromium Hexavalent, Free and Total Chlorine, Chlorine High levels, Copper, Cyanuric Acid, Hardness Total Low, Hardness Total High, Hydrogen Peroxide Low/Mid/High, Iodine, Magnesium Hardness, Nitrate, Nitrite, Ozone, Peracetic Acid, Permanganate, pH, Phosphate, Sulfate, Sulfide.
*
More tests are coming and will be available via simple download to your mobile device.
PRODUCT NOTE:
-
US EPA

Compliant meter for Free & Total Chlorine, uses 525 nm wavelength (US EPA compliance range is between 490 and 530nm).
-
CE certification.

Patented technology ( U.S. Patent No. 7,333,194 ).
-
Comes with a Manual in English.