The
eXact iDip Water Meter
can directly test Drinking Water or Pool Water for over 40 contaminants: Total Alkalinity, Bromine, Calcium Hardness, Free Chlorine, Total Chlorine, High Range Chlorine, Total Iron, Copper, Ozone, Permanganate, pH and more, over 35 tests total! This can be done repeatedly, on the spot, with lab test accuracy.
In Stock, Ready to be shipped!
The new eXact iDip photometer utilizes Bluetooth Smart wireless technology to provide an easy and seamless way to collect water test results in less time. Through live syncing, the eXact iDip app allows you to
connect your handheld photometer to Apple (iPhone, iPad, iPod Touch) or numerous Android devices
wirelessly to store test data. Results can be shared via email and a built-in GPS feature allowing easy retrieval by location.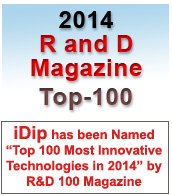 EPA Compliant
testing method for Free & Total Chlorine when used with DPD strips. Uses 525 nm wavelength, a ground-breaking electronic water tester that uses patented technologies for faster, safer, easier and more precise water testing. Improved, now with a new transmitting mode and more direct read parameters!
It's a great starter water tester for residential, commercial, pool and municipal water testing
.
Requies test strips for each specific test (unit comes with a small sample of tests). See
Replacement Parts
section below or go directly to
this page
for available strips.
The iDIP4 Reagent Delivery Method provides accurate, precise reagent dispersion into samples without leaving any suspended solids in the sample vial. By simply dipping the eXact® reagent strip into the built in 4 ml water sample cell for 20 seconds.

Compatible Devices

-Apple iPhone (4s, 5, 5C, 5s, 6)
-Apple iPad (Mini, Mini Retina, 3rd gen, 4th gen, 5th gen, Air, Air 2, Pro)
-Apple iPod Touch (5th gen and up)
-Android OS 4.3 or newer with Bluetooth 4.0 (4.3 Jellybean, 4.4 KitKat, 5 Lollipop, 6 Marshmallow) - available in Google Play Store.

Specifications
0.01 ppm (mg/L) precision

Built-in, permanent cell

(no loose glass or plastic cells; simply fill or dip into water)

Bluetooth Smart wireless technology

(saves directly to iPhone, iPad or similar device)

Uses eXact Strip technology

(simple, safe & reliable reagent dispersion)

No-slip grip housing

Lightweight

(weighs only 6 oz with batteries installed)

Waterproof meter (IP-67) that floats

Easy-to-read LCD display

Environmentally friendly


(recyclable parts & uses 60% less reagents than 10mL sample tests)

Proprietary optics


(allow for accurate testing without cap, though available)

Can test for over 40 parameters:


with use of test-specific reagents: Ammonia, Bromine, Calcium (as CaCO3), Chloride/Salt, Chlorine Dioxide, Chromium Hexavalent, Free and Total Chlorine, Chlorine High levels, Copper, Cyanuric Acid, Hardness Total Low, Hardness Total High, Hydrogen Peroxide Low/Mid/High, Iodine, Magnesium Hardness, Nitrate, Nitrite, Ozone, Peracetic Acid, Permanganate, pH, Phosphate, Sulfate, Sulfide. More tests are coming and will be available via simple download to your mobile device.
How to Use eXact iDip Photometer:
1. Turn the meter on and select an appropriate test by pressing MENU button.
2. Remove a test strip for chosen test from the bottle. Don't forget to recap the bottle immediately.
3. Rinse the CELL, which is located in the top of the meter, at least 3 times with water to remove residue and prevent cross-contamination. Finally, fill it with 4 ml of water sample.
4. Zero meter - press ZERO button until 0.00 ppm is displayed. Sample is ready for testing.
5. Dip strip into a water sample in a CELL, and immediately press READ button to start reading. This will start a countdown. Move strip back and forth in water sample. Remove and discard when timers shows 1.
6. Read the results or store them directly onto your mobile device.
CE certification
US EPA

Compliant meter for Free & Total Chlorine
, uses 525 nm wavelength (USEPA compliance range is between 490 and 530nm).
Patented technology

( U.S. Patent No. 7,333,194 )
Comes with a Manual in English.

Manufacturer's product number: 486691-K