10,000 gallons integrated Wall Mounted Shower Filter with replaceable cartridge by Paragon. Reduces chlorine by over 99%. Takes virtually no space in shower, easy installation. You may recognize this filtering system as being very similar as the one sold under one of the common household names (sorry we can't tell you which one).
Paragon Integrated Shower Filter WMF-1 features: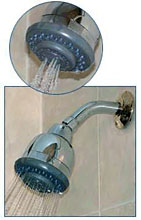 Reduces chlorine by over 99%
Reduces hydrogen sulfate
Naturally restores hair and skin softness by removing chemicals from water
Reduces water-borne Radon
Reduces soap and calcium build up on glass doors and tiles
Installs in seconds, no tools required
Wall Mounted Shower Head with Filter installation
The small shower head with filter will replace your existing shower head. Remove existing showerhead, add a bit of plumbing tape (included in the package), and screw Paragon integrated Shower Filter onto the water line with your hands. No tools required, anybody can have a crystal clean, chlorine-free shower water in minutes!
The WMF Massaging Shower Head comes with a chrome finish and includes 5 spray settings: full body spray, soft rain spray, invigorating pulse spray, full body spray/rain combination, and a full body spray/pulse combination. The rubber spray nozzles are equipped with an anti-clog feature.
Anyone who has ever swam in a chlorinated pool realizes how harsh is chlorine on your skin and hair. What most people don't know is that typically there's as much or more chlorine in tap or shower water than there is in the pool. Chlorine strips natural protective oils from skin, causing excess dryness, and sometimes redness and itching. Free chlorine also evaporates and you breath it in the shower. With a chlorine-removing shower filter you will notice significant cosmetical improvements - softer skin and silk hair! By elimination of chlorine and other chemicals from your shower with this Filtration System you will significantly reduce health risks that are caused by exposure to VOCs and THMs.

Need a replacement cartidge? See SFRC Paragon Wall MShower Filter Replacement Cartridge link below!
This WMF1 Paragon Wall Mounted Shower Filter is NSF certified to standard 177

under P-WMF-1 model number

.
Filter capacity
: 10,000 gallons or 1 year, whichever comes first