Another of Crystal Quests' Inline Water Filter but with much more filtration power - Fluoride Removal.
The Inline 7-Stage Water Filter with Fluoride Removal
is not only designed for use on refrigerators with ice-makers and/or water through the door but may also be used with water fountains, water coolers, commercial coffee makers and ice machines as well. Enjoy the most advanced and effective water Filters in the market.
Easy to install, convenient and effective. The InLine 7-Stage Water Filter with Fluoride Removal is installed on the water line that is connected to your fridge and can be used with almost any refrigerator brand. High pressure quick-connect fitting can be used on either 1/4" o.d. copper or plastic tubing. Can be manufactured with 3/8" which would require additional conversion package to be ordered.
Crystal Quests' Fluoride media can be used over a wide pH range with the filtered pH generally being increased. The resulting pH will vary based on existing water conditions.
Key features and Benefits:

Crystal Quest CQ-900 is a high capacity synthetic absorbent media that is highly selective for fluoride, arsenic and lead. The extremely high surface area and pore distribution gives this media the highest possible operating capacity and lowest possible leakage. It removes metals through a combination of adsorption and chemical reaction with the media, thus the removal is not dependent on ion exchange and has a uniform particle size similar to ion exchange resins. It has minimal shrinkage or swelling and low pressure loss. This media is physically stable and can be used over a wide pH range.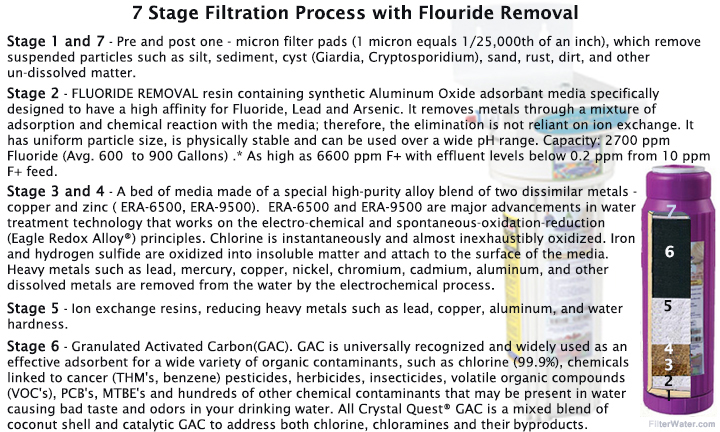 Specifications:

Model/SKU:

Refrigerator-Fluoride

Manufacturer Reference ID:

CQE-RF-00705

Dimensions:

5"L x 14"H (10"+4" to change cartridge) x 5"W

Weight:

6 lbs

Operating Pressure:

20-60 psi (pounds per sq. in.)

Operating Temperature:

40-90 degrees F

Max Flow Rate(gpm):

0.3-0.5 gallons per minute

Fitting Size (inches)

1/4 inch

Filter Capacity:

1 year
* Note: high pH and high bicarbonate levels reduce capacity - above 100 ppm bicarbonate, reduction by 50%; above 200 ppm, reduction by 75%.
We also have a fluoride removal only system
-
CQE-RF-0070.