6-Stage Countertop Water Filter, White










Price: $79.00 - $119.00


Brand: Crystal Quest
Dimensions: 13x4x4
Weight: 5 lb.




Ships in 2-3 days


Filter cartridge(s) included.


Email


| | | | | |
| --- | --- | --- | --- | --- |
| Product | SKU | Description | Price | Order |
| PLUS | W9-PLUS | Filters 10,000 gallons | $79.00 | |
| ULTRA | W9-ULTRA | Filters 20,000 gallons | $99.00 | |
| ULTIMATE | W9-ULTIMATE | Filters 30,000 gallons | $119.00 | |
Description
The
6-Stage Countertop Water Filter
or Mega Single Replaceable Cartridge Countertop Water Filter by CRYSTAL QUEST is a countertop system equipped with a 6-stage filtration replaceable cartridge. The system sits side by side with your faucet giving you an instant option to have filtered and none filtered water in one location. It offers great taste and pureness by eliminating impurities of tap water. The perfect solution for any household, it is quick and easy to install and use. It is one of the most attractive and convenient systems from CRYSTAL QUEST that effectively removes many contaminants from water.
This countertop water filter provides a flow rate of 0.5-0.75 gallons per minute. It can accommodate a filter with a 10,000 gallon, 20,000 gallon, or 30,000 gallon capacity, depending on your choice. Control water flow from unfiltered to filtered easily using its pre-designed diverter valve that comes with the package. Great for homes, apartments or office use.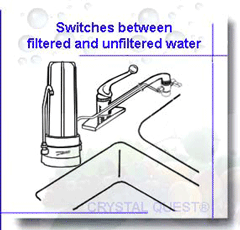 Key Features and Benefits:
6 stages of filtration.
A diverter valve near the aerator switches between filtered and unfiltered water.
99%+ chlorine removal.
Easily connects to any kitchen faucet
.
Installation requires no tools on any standard faucet

(
Counter top filter installation instructions).
Replacement cartridge has variable configuration based on filtration capacity.
This solid state water filter uses the latest technologies that blend the adsorption capabilities of coconut shell activated carbon(GAC), Eagle Redox Alloy and more.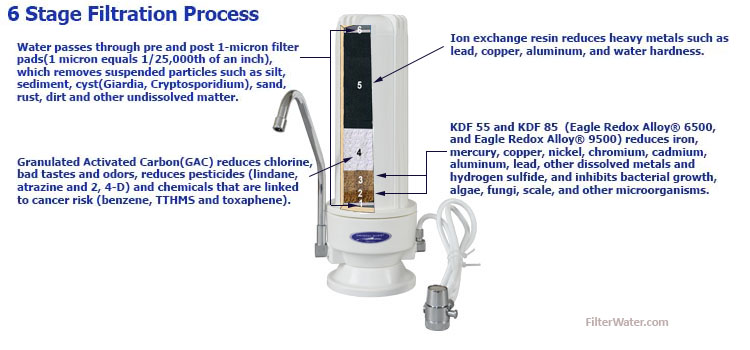 Variable Cartridge Details:
SKU
Filtration Capacity
Filter Life

W9-PLUS [

CQE-CT-00103]

*(CQ-RC-PL-10, CQE-RC-04002)
10,000 gallons
1-3 years

W9-ULTRA

[CQE-CT-00104]

*(CQ-RC-UL-10, CQE-RC-04003)
20,000 gallons
2-4 years

W9-ULTIMATE

[CQE-CT-00105]

*(CQ-RC-UM-10, CQE-RC-04004)
30,000 gallons
3-5 years

* Cartridge SKU

Specifications:

Dimensions:

5"L x 13"H x 5"W

Capacity:

(Refer Above Table)


Operating Temperature(°F):

40°F (4.4°C) - 90°F (32.2°C)

Operating Pressure(PSI):

20 PSI - 60 PSI

Design Flow Rate:

0.5 gallons per minute(best performance)

Filter Life(months):

12-24(Plus), 24-36(Ultra), 36-60(Ultimate)

* This product is manufactured using Ion Exchange Resins that meet standard ANSI 61/42 WQA Seal Certified, GAC which meets standard ANSI 42 NSF Certified, KDF which meets standard ANSI 61/42 Certified, and pre and post one-micron filter pads which are from ISO 9001 approved manufacturers.