Large Capacity Ultimate Pitcher provides clean, great-tasting water conveniently, waiting and chilled in your refrigerator. This pitcher shows 99+% chlorine removal past 20,000 gallons of water.
Voted "Best Buy" by Consumer Digest Magazine multiple years in a row since 2006 and as recent as 2012, and is also BPA FREE
!
Pitcher Water Filter Features: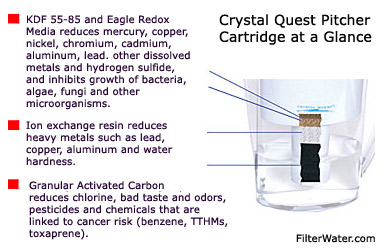 Removes hundreds of contaminants from water
Large 10-cup (2.5 quarts) pitcher (6-8 cups filtered water).
Slim, space-efficient shape fits nearly any refrigerator
Carafe Water Filter

provides 2,000 gallons (6-12 months) of quality drinking water
New version now comes with a digital filter replacement indicator.
Advantaced 5-Stage Filter:
Our carafe pitcher water filter is the only leading brand with 5 stages of filtration. Filtration stages:
1. One micron sediment pre-filter. Removes dirt, rust, sediment and any large particles from water.
2, 3. KDF55 and KDF85 reduce iron, mercury, copper, nickel, chromium and other dissolved metals, and harmful bacteria. Also make filter bacteriostatic (no more bacteria growth) and increase the life of filter.
4. The ion exchange resin reduces heavy metals such as lead, copper, aluminum, and water hardness.
5. Granulated activated carbon (GAC) reduces chlorine (99.9%), bad taste and odors, reduces pesticides and chemicals that are linked to cancer risks (benzene, TTHMs and toxaphene).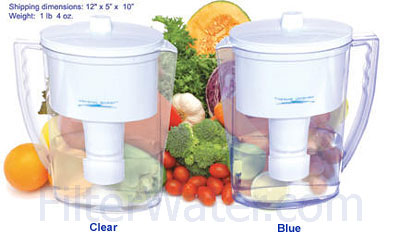 This is a picture of older version, it reflects differences in COLOR of Clear and Blue versions.

Compare Leading Pitchers:


Crystal Quest vs. Culligan, Brita and PUR


Crystal Quest
Pitcher Filter
Culligan OP-1
Brita Deluxe
PUR CR-900

"White Label"

CVS, other

Pitcher Price
$24.95
$15.99
$32
$29
$21.99 Brita
Capacity, cups
10
8
10
10
8
Filter Life, months

6-12

2
2
2
2
Filter Life, gallons

2,000

40
40
40
40
Filtration Stages

5

2
3
2

5 advertised,

3 actual*

Filter Cost (approx.)

$16
$7
$7
$10
$9
Cost of ownership,
2 Years (approx.)
$93
$120
$139
$121
Don't forget to add an extra replacement cartridge to your order of a Crystal Quest Carafe Water Filter!

* CVS filtes use Brita-designed 3-stage cartridge, that offers 1) sediment removal stage, 2) carbon stage, and 3) ion exchange stage.