Diverter Valve for Countertop Filters
by CRYSTAL QUEST, a standard 1/4" tube diverter switch that will give you a quick option to choose between filtered and unfiltered water right on your faucet. These adapters are also called
Single direction Diverter Valves
with Collar. The valve alternatively serves as the connector between your faucet and your countertop filtration system. It's collar screws onto your kitchen faucets' threads and will fit most Countertop Filters that connect to a water faucet with a 1/4" or 3/8" single "plastic tube" water line. Diverter collar rotates and is not fully locked even when diverter is installed. This is by design, so that you don't have to rotate a filter with the line during installation.
| | |
| --- | --- |
| | |
When filtered water is desired, turn the lever to redirect water from your faucet to your filter, and when you're done, simply turn the lever back down to turn off, this lets you continue using your kitchen faucet as usual the next time you turn it on(for washing dishes, etc.). A handle-stop is in place to keep the lever from moving beyond its maximum turn. The chrome finish design pairs perfectly with modern kitchen fixtures.
Key Features and Benefits:
Durable manual lever mechanism.
All chrome finish perfect combination for kitchen faucets.
Easy switch between filtered and unfiltered water.
Easy installation.
Compatible with most kitchen taps.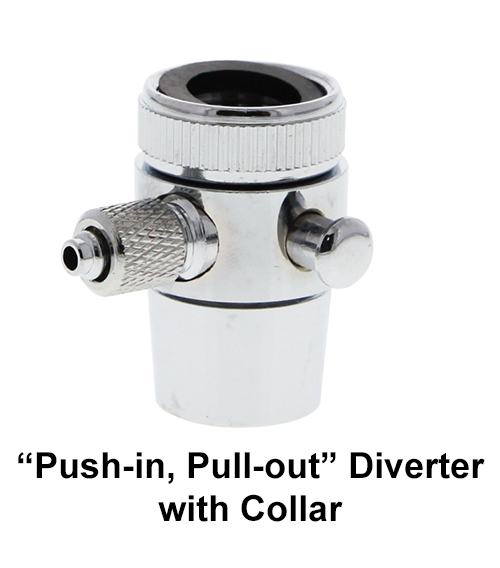 * Line size: 1/4" or 3/8", Connector type: single barb
* Line size: 3/8", Connector type: dual barb
Most popular type used for water filters is 1/4 inch, single barb.
NOTE:

we no longer carry push-in, pull-out diverter valves, until further notice.
Maintenance:
If your water is hard (lots of calcium, white deposits on faucets), we recommend wiping diverter with 1:1 water+vinegar solution, especially o-rings, on a regular basis. Calcium deposits tend to harden resin and block the collar, and in hard water o-ring will eventually crack if not cleaned regularly.
Specifications:

Model/SKU:

CQE-PT-03001

Manufacturer ID:

CQE-PT-03001

Water Line Size:

1/4"(also available in 3/8")

Dimensions:

2 x 1 x 1

Weight:

0.4 lb

Color/Finish:

Chrome
Available part numbers: CQE-PT-03001-C1 ( C1 ), CQE-PT-03001-C2 ( CQE-PT-03004 ), CQE-PT-03001-C4 ( CQE-PT-03007 ), CQE-PT-03001-C6 ( CQE-PT-03008 )