Categories
By Contaminant
Brands
Library
Help & Info
Testimonials
Water filters really work! You guys are the best!
read more
Arsenic and Whole House Filter Dual Tank







Brand: Crystal Quest

Dimensions: 54"x10"
Weight: 200 lb.




Ships in 3-5 days




Filter cartridge(s) included




Email



Product
SKU
Description
Price
Order
1.5 cu.ft
CQE-WH-01151

Flow rate: 9-11 gpm

Tank size: 10" x 54" each

$3,095.00
2 cu.ft.
CQE-WH-01152

Flow rate: 10-13 gpm

Tank size: 12" x 52" each

$3,690.00
Description
A combination of a Whole House Arsenic Removal and A Whole House Water Filter. This unit works in situation where a large arsenic reduction is desired, along with a high quality water filtration.
A backwashing system comes in 2 different sizes for smaller or larger homes.
Water travels through 6 stages of filtration: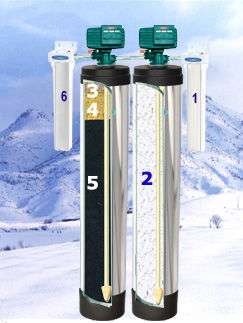 First,

water travels through a 20" sediment cartridge that removes sediment, silt, sand and dirt. Also this extends the life of water softeners and water filters, and prevents damage to control valves or pumps.

Next

, water travels through a 1.5 or 2.0 cubic foot Arsenic media tank with an Automatic Microprocessor Control valve (The longer amount of time that the water is in contact with the media, the more effective is the conditioning and filtering of the water.)

Third through Fifth stage

, water travels through KDF-85, KDF-55 and GAC (Granular Activated Carbon) tank. This is our standard whole house filter unit that is capable of removing hundreds of contaminants from water (if present).

Finally

, water travels through a 20" solid carbon cartridge for a final conditioning of the water and removing any remaining contaminates and VOC's which may be in the water.




Arsenic Whole House Filter Dual Features

Backwash capacity handles tanks

up to 12" diameter for softener applications, 10" for filter applications

Double backwash capability

Arsenic Reduction Filter System properties:


Sediment filter cartridge and Solid carbon cartridge life: 6-8 months
Arsenic media remove after: 1.5 cu.ft - 5-7 years, 2 cu.ft - 7-8 years