Eagle A1000AS Anti-Scale Saltless Water Conditioner
is a mid-size whole house water filter system that involves 4 stages of filtration. Filtration process is distributed into 3 20 inch filter cartridges for Sediment, Solid Carbon and Ultrafiltration and 1 Medium sized tank for the Anti scale media. This Saltless Water Conditioner applies a new technology which transforms the calcium and magnesium carbonate(hardness) of the water into mechanically stable and heat resistant calcite crystals(nanometer size) which no longer cause lime deposits. The calcium and magnesium crystals are simply rinsed away.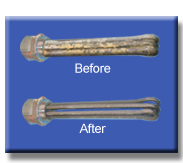 Calcium and magnesium carbonate (hardness) creates scale in pipes, on appliances and other plumbing surfaces. This leads to higher heating and energy costs and expensive repairs to appliances. Scale can also be a source for bacteria to grow, which can be a health concern in drinking water applications. The Anti-scale process removes the already existing scale from pipes and heat exchanger surfaces(descaling effect) and further protect the system from future formation of scale(scale protection effect).
The media works with a catalytic surface. Once water contact occurs the nanocrystalls on the ceramic surface of the media create calcium crystals from the positive calcium ions. These calcium crystals are neutral and can not attach to any surfaces. This applies to pipes, appliances, water heaters as well as machinery surfaces. This works with cold water as well as with hot water. The nano sized crystals are rinsed away by the water flow. All harmful characteristics of the calcium are neutralized.