When you first install the filter or replace the cartridge, turn off the water faucets and turn on the washing machine for a minute. This drains the water out of the lines and eliminates the clean up!
To change cartridges every 2-3 months for new wells, 3-6 months for an existing well without a whole house filter and every 6 months on public water or homes with a filtration system. This may vary depending on the contamination of your water source.
How To Change Washing Machine Filter Cartridge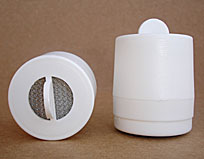 To change the cartridge, simply unscrew the middle of the housing, remove the old and replace with the pull tab facing the washer.
It's perfectly acceptable to use on either the hot or cold water intake