Categories
By Contaminant
Brands
Library
Help & Info
Testimonials
Water filters really work! You guys are the best!
read more
Countertop Water Filter With Three Cartridges










Brand: Crystal Quest

Dimensions: 15x14x4
Weight: 9 lb.




Ships in 2-3 days


Filter cartridge(s) included.


Email


| | | | | |
| --- | --- | --- | --- | --- |
| Product | SKU | Description | Price | Order |
| CT-109 PLUS | CQE-CT-00109 | Filters 10,000 gallons | $129.00 | |
| CT-110 ULTRA | CQE-CT-00110 | Filters 20,000 gallons | $149.00 | |
| CT-111 ULTIMATE | CQE-CT-00111 | Filters 30,000 gallons | $169.00 | |
Description
Countertop Water Filter With Three Cartridges
by Crystal Quest is a 3-cartridge filter system with 8 stages of filtration. First, water travels through a sediment filter cartridge that removes sediment, silt, sand and dirt. Also extends the life of succeeding water filters. Next is the standard multi-stage filter which contains a combination of Granulated Activated Carbon(GAC) and Eagle Redox Alloy media that increases the systems' effectivity in removing hundreds of other contaminants from your tap water. Lastly, a solid carbon(Coconut Shell) cartridge for removing volatile organic carbon compounds (VOC's, insecticides, pesticides and industrial solvents). It simultaneously removes chlorine taste and odor while providing the particulate filtration and dirt-holding capacity of an efficient 5µm nominal sediment filter. This filtration setup is an excellent choice if your water has large presence of particulates or dirt. Counter-top water filter systems installs in seconds and sits on the countertop for to get pure and healthy water on demand for your family. Feel the convenience of having filtered and unfiltered water in one easy switch.
Key Features and Benefits:
8 stage filtration.
Sediment pre-filter to remove water particulates.
Multi-stage plus Carbon Block filters for cleaner water.
Sits on the counter and easily connects to any kitchen faucet.(Counter Top Filter Installation Instructions)
Comes with a diverter valve, switches between filtered and unfiltered water.
Quick and easy to use, stylish and convenient.
Q: Can I use this system on well water or water that has bacteria , cryptosporydium, giardia or similar?
A:
You can modify this system to take care of these issues. Carbon Block cartridge (third filter) in this system can be replaced with 0.2 micron Ultrafiltration Membrane (see below, sold separately) to make water biologically safe and to remove bacteria , viruses and parasites. If you modify it, we recommend the following order of cartridges: Sediment filter, Ultrafiltration membrane, 6-stage cartridge.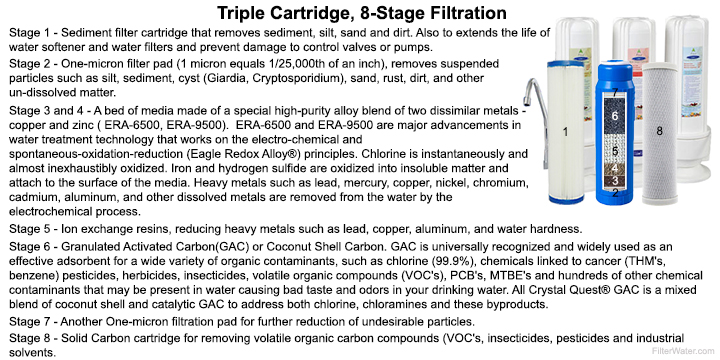 Filter Configurations:
SKU
Filtration Capacity
Filter Life

CT-109-PLUS

[

CQE-CT-00109]

*(CQ-RC-PL-10, CQE-RC-04002)

10,000 gallons

1-3 years

CT

-110-ULTRA

[

CQE-

CT-00110

] *(CQ-RC-UL-10, CQE-RC-04003)

20,000 gallons

2-4 years

CT

-111- ULTIMATE

[

CQE-

CT-00111

] *(CQ-RC-UM-10, CQE-RC-04004)

30,000 gallons

3-5 years
Specifications:

Model/SKU:

CT-109 PLUS, CT-110 ULTRA, CT-111 ULTIMATE10-PLUS, ULTRA, ULTIMATE

Manufacturer ID:

CQE-CT-00109, CQE-CT-00110, CQE-CT-00111


Dimensions:

15"L x 13"H x 5"W

Capacity:

(Refer to configuration above)

Operating Temperature(°F):

40°F - 90°F

Operating Pressure(PSI):

20 psi - 60 psi

Design Flow Rate(Gallons per Minute. gpm):

0.5 gpm

Micron Rating:

5 (Carbon Block and Sediment)

Filter Life(months):

6-12 months(Carbon Block and Sediment)

End Caps:

Polypropylene #5

Inner/Outer Wraps:

Polyolefin

Netting:

Food Grade High-density Polyethylene

Gaskets:

Buna-N