Countertop Water Filter with 3 replaceable cartridges and 8-stage filtration. Great advanced system that effectively eliminates hundreds of contaminants and produces water of great taste and pureness. Attractive and convenient design, connects to almost any kitchen faucet (except pullout). The solid-state water filter uses latest technologies that blend the absorbtion capabilities of coconut shell activated carbon with REDOX / KDF media.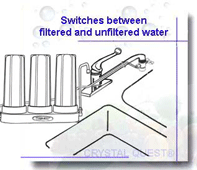 Counter top 3-cartridge Water Filter Sytem with 8 stages of water filtration that easily connects to any kitchen faucet. Available in White (specialty BPA-free plastic that can withstand high water pressure) and Stainless Steel body.
How Triple Countertop Water Filter works
First

, water travels through a 5 micron sediment filter that removes sediment, silt and dirt. This cartridge also extends life of the system
Second

, a 6-stage cartridge is used to effectively remove or reduce hundreds of contaminants. Cartridge consists of 1-micron pads, KDF55, KDF85, GAC and ion exchange layers
Third

, a 5 micron solid carbon block cartridge is used for removing (or greatly reducing) of Volatile Organic Compounds (VOCs), insecticides, pesticides, and industrial solvents.
A diverted valve near the aerator switches between filtered and unfiltered water.
Flow rate:
0.5 to 0.75 gallon per minute, best performance @ 0.5 gpm
Filtration capacity (6-stage cartridge):
10,000 gallons, (replace every 1-3 years); 20,000 gallons (replace every 2-4 years); 30,000 gallons (replace every 3-5 years).
Filter Replacement:
Sediment and Carbon block filter: 6-12 months, 6-stage cartridge see above.
Mfg product numbers. White models: CQE-CT-00109 (PLUS), CQE-CT-00110 (ULTRA), CQE-CT-00111 (ULTIMATE). Stainless steel: CQE-CT-00118 (PLUS), CQE-CT-00119 (ULTRA), CQE-CT-00120 (ULTIMATE).
Q:
Can I use this system on well water or water that has bacteria , cryptosporydium, giardia or similar?
A:
You can modify this system to take care of these issues. Carbon Block cartridge (third filter) in this system can be replaced with 0.2 micron Ulfrafiltration Membrane (see below or
click here
, sold separately) to make water biologically safe and to remove bacteria , viruses and parasites. If you modify it, we recommend the following order of cartridges: Sediment filter, Ultrafiltration membrane, 6-stage cartridge.