Crystal Quest

Hybrid Reverse Osmosis Floor Water Cooler Systems

are advanced, attractive and durable. With 9 stages of water filtration, they are the perfect way to enjoy clean, crisp filtered water without the hassle of dealing with heavy bottles and delivery schedules. Capable of providing an office of up to 30 people with a continuous supply of pure drinking water. Water travels through filters into the water tower, and then into cold and hot water reservoirs. You will be able to drink filtered water immediately even if water tanks are drained. Save money, space and time with your own bottle-less water cooling system. Enjoy filtered water 24 hours a day.



Installs easily!

Plumbs directly to your cold water line for a continuous water supply. Bottle-less (point-of-use, POU) water coolers can be used in homes and offices to filter tap water and get best quality drinking water for pennies per day!

Lowest Price Delivered!



With the

Reverse Osmosis

system, you can ensure that you get the purest and healthiest water for your household. The RO membrane helps to remove lead, sodium, cyanite, ammonium, mercury, bromide, cadmium, radium, magnesium, fluoride, nitrates, nitrites and more which are known to cause cancer.



Key Features and Benefits:


•

9-stages of filtration with Reverse Osmosis that purifies water from cancer causing materials.


• Built-in filtration system
• Separate hot/cold power switch
• Automatic heating shut-off when hot temperature is reached
• Automatic float valve
• High efficiency sealed compressor cooling system
• Type 304 stainless steel hot and cold water tanks
• Easy access front panel for service of Filter system
• Easy to use and easy to clean
• Booster pump to increase performance of Reverse Osmosis filter
• Can be used as a system with cold and ambient water (just turn off heating element)
• Pressure pump is included for best Reverse Osmosis performance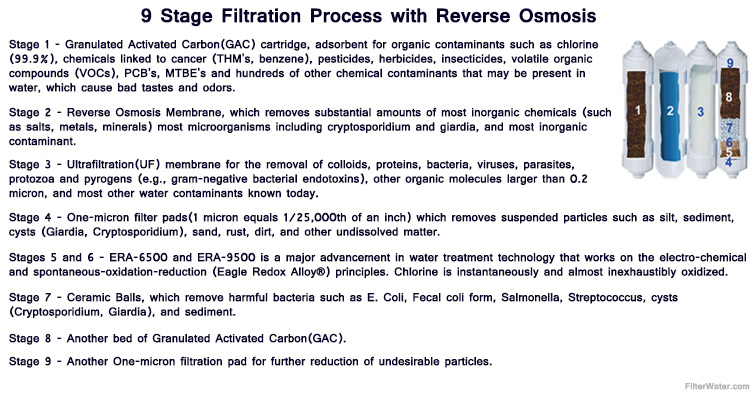 Specifications

Model/SKU:

CQE-WC-00902

Manufacturer ID:

CQE-WC-00902

Dimensions:

(D) 14.5" x (W) 14 3/4" x (H) 39.25"

Weight:

60 lbs.

Total Reservoir Capacity:

3.2 gallons

Heating Power:

500W 6.2 Amps

Cooling Power:

112W 2.4 Amps

Hot Water Tank Volume:

1.45 gal

Cold Water Tank Volume:

1.2 gal

Cooling Capacity:

1.95 gal per hour 35-50°

Heating Capacity:

1.5 gal per hour 185°F

Voltage:

110V-120V 50/60Hz

Pressure Range:

30-60 psi (2.1-4.1 bar)

Optimum Service Flow:

0.50 GPM at 60 psi (1.1lpm at 4.1 bar)
Filter cartridges are included with the system. Free Ground Shipping in continental US*(Restrictions Apply).


Priced below manufacturer's!

Optional components:

Because Reverse Osmosis system removes a lot from water, including beneficial minerals such as calcium and magnesium, water produced will have flat taste. We strongly recommend buying an optional

alkalizer + remineralizer cartridge CQ-RC-04054

(see below). We will install it!




Installation Details:

The unit comes with a booster pump for a reverse osmosis membrane, and a drain. You can use the unit with booster pump and a drain, or without. In standard configuration, a pump pushes water through Reverse Osmosis membrane in order to produce more filtered water per hour. In the process, some water gets rejected by membrane and will have to be drained.


* In a situation when you don't want to waste water, or have a limited amount of people who will use filtered water, the Cooler can be installed without a drain - just keep drain plugged in and don't power a pump. Follow installation manual for further instructions.

* Room Temperature water can be available through one of the spouts if heating element or cooling compressor are turned off.

* Each unit undergoes a thorough 72-hour manufacturer test before being shipped to you.

* Manufacturer's Warranty: 1 year for the complete system. 3 years on compressor.