Categories
By Contaminant
Brands
Library
Help & Info
Testimonials
Water filters really work! You guys are the best!
read more
FW-500 Bottleless Water Cooler










Brand: FilterWater.com

Dimensions: 43"x14"x12"
Weight: 49 lb.


Quantity discounts:


| | |
| --- | --- |
| Quantity | Unit Price |
| 1-2 | $405.00 |
| 3-3 | $390.00 |
| 4+ | $375.00 |




Ships in 2-3 days




Email


| | | | | |
| --- | --- | --- | --- | --- |
| Product | SKU | Description | Price | Order |
| Standard | FW-500 | 1 gallon cold water tank, up to 30 people. | $405.00 | |
| High Capacity | FW-500-H | High Capactiy 2 gallon cold water tank, suitable for up to 50 people. | $540.00 | |
Description
FW-500 Bottleless Water Cooler
with options for just plain hot/cold water without filtration, or a 4-stage sub-micron Ultra Filtration, or the 4-stage Reverse Osmosis System - your own choice for your own specific drinking water needs. Cooled by a LG compressor, stored in surgical stainless steel tanks and built with a leak detector - your water is guaranteed clean, healthy and safe.
This FilterWater cooler units' ability to carry different configuration makes these water coolers the most versatile compared to other products. The LG compressor provides reliable cooling system and its surgical type 316 high-grade stainless steel hot and cold water tanks add extreme durability. Our coolers are designed to produce pure, great tasting water for the whole family that is clean and safe to drink.
With it's sleek look, high quality construction, un-paralleled reliability and unbeatable price, this exceptional product will surely please everyone at home, or the office! The FW-500 or "Econo-line cooler" delivers not only hot and cold water but also guaranteed quality, reliability and easy serviceability.

Key Features and Benefits:
Choice of UltraFiltration, high capacity Reverse Osmosis System with 100 gpd membrane, or simply just plain water.

For Reverse Osmosis Systems, highest capacity 100 gallons per day, American-Made membrane

Hot and cold tanks made from the highest quality stainless steel.
Hot tank safety feature which allows it to shut off automatically if the tank is turned on and is not filled with water.
Safety lock function for the hot water, preventing burning accidents.
ADA-compliant, certificate is available with FilterWater.com - branded machines.
No Scale build-up! Cooler is designed to handle high scale water when ordered with a Reverse Osmosis system!
Connects easily to cold water line for unlimited filtered drinking water.
Built-in leak detector.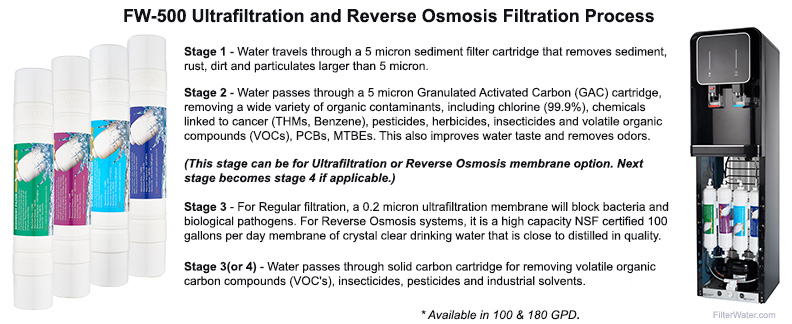 Specifications:

Model/SKU:

FW-500 (no filtration)

FW-500F (4-stage Ultrafiltration)

FW-500RO (4-stage Reverse Osmosis filtration with american-made 100 gallons per day capacity membrane)




FW-500 7.5, High Capactiy

Type:



Cold/Hot POU water dispenser (POU - Point Of Use)


Dimensions(inches):

13" Width x 14" Length x 43" Height

Shipping Weight(lbs):



49 lbs.


Cold Tank Volume(gallon, gal):

1 gal

Hot

Tank Volume(gallon, gal):

0.5 gallon

Cooling Rate:

1.5 gal/hour, 37-50°F

Heating Rate:

1.3 gal/hour, 180°F

Power/Voltage:

110V/60Hz (Call for converter if you need 220V)

Cooling Power Consumption:

100W

Heating Power

Consumption

:

500W

Filter Life(months):

Sediment and Carbon Pre and Post(6 months), Reverse Osmosis(36 months)
Optional Add-on:
*
UltraViolet Sterilizer, $139 (we install it on your new cooler)



Backed by great warranty!
1 year manufacturer's warranty system, 3 years on compressor.
PRODUCT NOTE:

- Available in Black and White unit color.
- Filter cartridges are included with FW-500 coolers that come with filtration system installed (FW-500F, FW-500RO).
- Final assembly in Canada using U.S. and overseas parts.
-
Bottle-less cooler comes with filter cartridges, installation hardware and instructions. Call a number in the manual

during installation

if you have any questions!