Enjoy delicious, healthy water straight from your tap with CRYSTAL QUEST
Faucet Mount Water Filter - Chrome finish design.
Faucet Mount Filtration System is the most advanced water filtration system for healthier, great-tasting water, right from your tap. The CRYSTAL QUEST
Faucet Mount Water Filter
is the only leading brand with 5 stages of filtration ensuring you the cleanest and purest tasting water directly from your tap. Its space-saving design allows you to maintain easy access to your sink. It is quick and easy to install and use. The system reduces chlorine, bad tastes and odors and removes hundreds of contaminants from water. Its Chrome finish adds elegance and texture to your kitchen.



Consumer Digest "Best Buy" for 2012!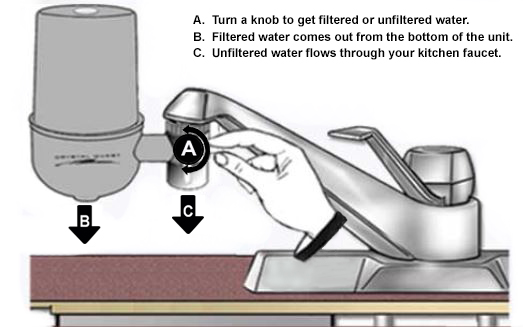 Key Features and Benefits:
•
5 stages of filtration
• Ingenious space-saving design for easy access to your sink.
• Quick and easy to install and use, attractive and convenient.
• Reversible filter cartridge.
• Effectively removes many contaminants from water.
• Filtered and unfiltered water in an easy turn knob.
• Provides 2,000 gallons (6-12 months)* of quality water.
• Style and elegance in chrome finish.

Specifications:

Model/SKU:

W2-CHROME

Manufacturer ID:

CQE-FM-00501

Filter Life(gallons):

2,000

Flow Rate(gallons per minute, gpm):

0.3

Color/Finish:

Chrome
Parts included:
- Faucet Mount Filter
- Multi-Stage Filter Cartridge
- Faucet Adapters
- Filter Change Reminder Label
* This product is manufactured using Ion Exchange Resin that meets standard ANSI 61/42 Water Quality Association Seal Certified, GAC which meets standard ANSI 42 NSF Certified, KDF which meets standard ANSI 61/42 Certified, and pre and post-micron filter pads which are from ISO 9001 approved manufacturer.