Sprite Slimline Shower Filter is designed to fit in showers where overhead space is limited. It's unique slim line shower head design only extends your regular showerhead by no more than 1.5 inches. Sprite SLWH is chlorine reducing shower filter.
Studies show that exposure to chlorine in shower is significant. Chlorine can irritate your eyes and skin, damage hair, harden arteries and worsen respiratory problems such as asthma or allergies. Sprite Slim Line shower filter uses KDF-55 and Chlorgon Media that has been tested and certified against NSF / ANSI standard 177 for reduction of free available chlorine. It also balances water pH and reduces scale buildup on shower walls.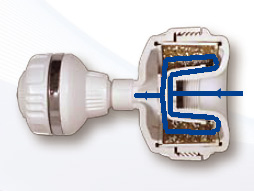 Use this filter with your own shower head (
shower head is not included!
).
Sprite Slimline Shower Filter advantages:
2-stage water filtration
Compact design that extends shower head no more than 1.5"
Can be used with your own shower head
Shower Filter capacity: 6 months
Manufacturer's product number: SL-WH