Using a water filter pitcher in your home is the most convenient and relatively inexpensive way to get clean drinking water. It is a step up into drinking with water filtration. The
Large Capacity Ultimate Pitcher
provides clean, great-tasting water chilled in from your refrigerator. This pitcher shows 99%+ chlorine removal past 20,000 gallons of water. It is the only one in its class that is designed with an Advanced 5-Stage Filter, and the only one that is equipped with a filter that can provide up to 2,000 gallons (6-12 months) of quality drinking water. The unique high capacity and multi-stage design means less maintenance with replacement filter cartridges that have to be replaced every 100 to 500 gallons!


Voted "Best Buy" by Consumer Digest Magazine multiple years in a row since 2006 and as recent as 2012, and is also BPA FREE
!
Features:
• Removes hundreds of contaminants from water.
• Large 10-cup pitcher is perfect for entertaining or just for having lots of delicious, chilled water available.
• Slim, space-efficient shape fits neatly into refrigerator.
• Contemporary, stylish design.
• Convenient flip-top lid for easy refilling, and handle designed for comfortable pouring.
• Provides 2,000 gallons (6-12 months) of quality water.
• Comes with a digital filter replacement indicator.
• 5-micron pre-filter pad within cartridge for reduction of undissolved matter.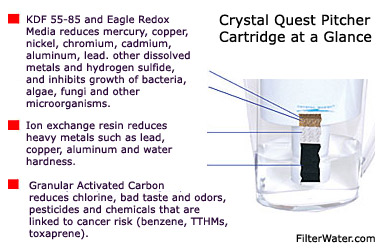 Advanced 5-Stage Filter.
Our Carafe Pitcher Water filter is the only leading brand with 5 stages of filtration:
1. One micron sediment pre-filter. Removes dirt, rust, sediment and any large particles from water.
2. & 3. KDF55 and KDF85 reduce iron, mercury, copper, nickel, chromium and other dissolved metals, and harmful bacteria. Also make filter bacteriostatic (no more bacteria growth) and increase the life of filter.
4. The ion exchange resin reduces heavy metals such as lead, copper, aluminum, and water hardness.
5. Granulated Active Carbon(GAC) or Coconut Shell Carbon media reduces chlorine, pesticides and cancer-causing chemicals, such as TTHMs, toxaphene, and benzene.
Don't forget to add an extra replacement cartridge to your order of a Crystal Quest Carafe Water Filter!