Aquasana undercounter water system AQ-4601 (older AQ-4501) includes everything you need to install a Consumer Digest "BEST BUY"-rated Aquasana AQ-4000 water filter under counter. The combo includes filter and an attractive, convenient, lead-free faucet and all the necessary fittings, tubing, brackets, etc.
Offer includes Aquasana AQ-4000 filter, a premium AQ-4055 or AQ-4056 faucet, and all fittings and brackets to install filter under counter.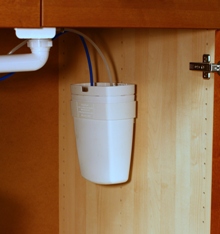 Aquasana Deluxe Under Sink Filter removes these contaminants:
99% of chlorine
99% VOCs
99% lead
99% THMs
99.99% Cysts
99% Lindane
99% Atrazine
99% Alachlor
99% Benzene
93% MTBE and more
The Aquasana AQ-4501 Undercounter Premium filter far exceeds all the stringent NSF testing for standards 42 & 53; State of California Health Department Certified
Aquasana 4000 Undercounter #99-1407
as well as IA, WI, CO, etc. For municipally treated water only. The Aquasana water filter system provides filtration to 0.5 microns while leaving in all the healthy, natural trace minerals for great taste.
This under sink system has 2 filter cartridges that should be replaced together. The Aquasana replaceable water filter cartridges AQ-4025 are easily changed and last 500-1000 gallons (replace every 6 months).
AQ4501BN - BN Brushed Nickel
AQ4501CH - CH Chrome