Turbo Reverse Osmosis Water Cooler










Regular
SKU: CQE-WC-00907
Dimensions:
37"(H) x 13"(W) x 13"(D)
Weight:
45 LBS.
Price:

$665.00

Premium
SKU: CQE-WC-00907-PR
Description:
Includes: stand, cup holder and cups
Dimensions:
49"(H) x 13"(W) x 13"(D)
Weight:
56 LBS.
Price:

$770.00

Quantity discounts:

| | |
| --- | --- |
| Quantity | Unit Price |
| 1-3 | $665.00 |
| 4-9 | $635.00 |
| 10+ | $615.00 |

Email

---
The
Floor Turbo Reverse Osmosis Water Cooler
is a top-of-the-line Cooler System with
Reverse Osmosis
. With Reverse Osmosis, you can assure to receive a steady supply of pure, healthy and great-tasting water 24 hours a day. This Turbo RO Water Cooler's sleek design is best chosen for small offices and homes. Its
9-stage filtration system
can provide an office of up to 30 people with a continuous supply of the purest drinking water you can find.
Installs easily!
It connects directly to your cold water line for a continuous water supply. Water travels through filters into the water tower, and then into cold and hot water reservoirs. You will be able to drink filtered water immediately even if water tanks are drained. Bottleless (point-of-use, POU) water coolers can be used in homes and offices to filter tap water and get best quality drinking water for pennies per day! Save money, space and time with your own bottleless and filtered water cooling system 24 hours a day.
Lowest Price Delivered!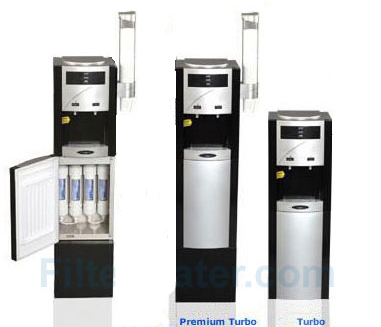 GPD = Gallons Per Day
50, 75 or 100 GPD (gallons per day) reverse osmosis membranes (higher number means more gallons of filtered water produced per day).


Please read:
Water cooler
shipping information before ordering!
Free Ground Shipping

in continental US*
(
Restrictions Apply
).
$35-70 below manufacturer's price!
Key Features and Benefits:
9-stages of filtration

that reduces dirt and debris, chemical contaminants, known carcinogens, and pathogens.

High grade stainless steel cold and hot vessel
Easy front access to all controls and filter cartridges
Separate and adjustable hot and cold power switches
All connection hardware included

Pressure pump is included

for best Reverse Osmosis performance

Easy to clean
Automatic heating shut-off when hot water tank is empty or hot temperature reached
High efficiency sealed compressor cooling system.
Sleek exterior design fit for office use.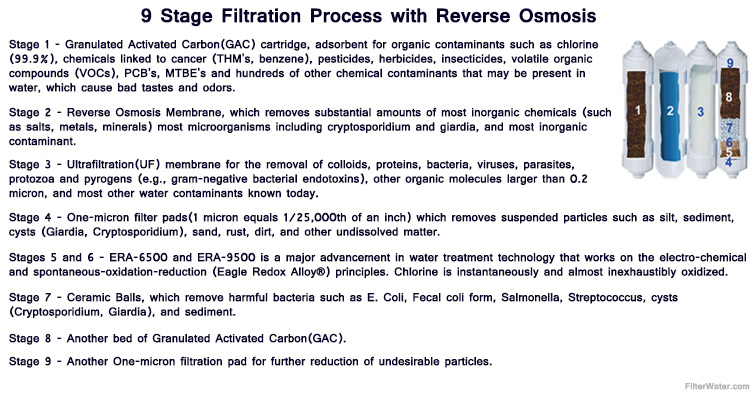 Specifications
Total Reservoir capacity

Cold Water: 1.5 gallon, Hot Water: 0.5 gallon.

Heating capacity

1.5 gallons per hour

Cooling capacity

1.95 gallon per hour

Electricity

Available in 120V/60Hz or 240V/50Hz

Power

Heating: 500W, Cooling: 112W

Hot Water Tank temperature

176°F - 194°F

Filters life

2 years

for office of 10 people, more people or more usage will decrease life of filters.
Optional components:
Because reverse osmosis system removes a lot from water, including beneficial minerals such as calcium and magnesium, water produced will have flat taste. We strongly recommend buying an optional
alkalizer + remineralizer cartridge
CQ-RC-04054 (see below). We will install it!


* Each unit undergoes a thorough 72-hour manufacturer test before being shipped to you.
* Manufacturer's Warranty: 1 year for the complete system, not including replaceable filter media. 3 year warranty on compressor.
NOTE:
- Please call the number in the manual

during installation

for technical assistance and any questions you may have regarding installation, configuration and operation of the unit.
- Reverse Osmosis membrane is only capable of producing limited amounts of water per hour. If you have a need for a continuous supply of filtered water (for instance if it is located in a kitchen area or a busy lobby), we recommend a Turbo Ultrafiltration bottleless water cooler instead.
Product Manufacturer and other Reference ID's: Regular - CQE-WC-00907, Premium - CQE-00907-PR, CQE-WC-00907-PR, CQP-WC-05901