Floor
Turbo Reverse Osmosis
Water Cooler with 4-stage filtration system. Provides office up to 20 people with a continuous supply of pure drinking water.
Lowest Price Delivered!
Bottle less Water Cooler, also known as Point-of-Use POU Water cooler, is convenient new technology that allows to save space and get rid of large water bottles forever! Just connect to cold water line for continuous water supply. Water travels through filters into water tower, and then into cold and hot water reservoirs. You will be able to drink filtered water immediately even if water tanks are drained.
GPD = Gallons Per Day

50, 75 or 100 GPD (gallons per day) reverse osmosis membranes (higher number means more gallons of filtered water produced per day).




Please read:

water cooler shipping information

before ordering!



Free Ground Shipping

in continental US*
(
restrictions apply
).
$35-70 below manufacturer's price!
Turbo RO Water Cooler features:
Water Cooler Filtration System:
A combination of Reverse Osmosis and Ultrafiltration to provde you with best quality drinking water! Water travels through a 4-stage water filter to remove most contaminants and produce crystal clear, fresh and tasty water - no bottles to buy! The following contaminants are removed:
Filter #1 - granular activated carbon (GAC) , an effective absorbent for a wide variety of organic contaminants, such as chlorine (removes 99.9%), chemicals linked to cancer (THMs, benzene), pesticides, herbicides, insecticides, volatile organic compounds (VOCs), PCBs, MTBEs and many others.
Filter #2 - water passes through a Reverse Osmosis membrane, which removes substantial amount of inorganic chemicals (such as salts, metals, minerals), microorganisms (including cryptosporidium and giardia), and most inorganic contaminants.
Filter #3- Water travels through a 0.2 micron Ultrafiltration membrane (UF) to remove most colloids, proteins, bacteria and parasites larger than 0.2 micron.
Filter #4 - water goes through a 6-stage filter that removes heavy metals and improves water quality.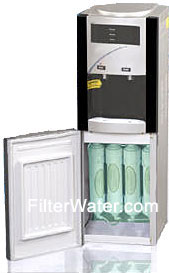 Specifications
Total Reservoir capacity
Cold Water: 1.5 gallon, Hot Water: 0.5 gallon.
Heating capacity
1.5 gallons per hour
Cooling capacity
1.95 gallon per hour
Electricity
Available in 120V/60Hz or 240V/50Hz
Power
Heating: 500W, Cooling: 112W
Hot Water Tank temperature
176°F - 194°F

Filters life

2 years

for office of 10 people, more people or more usage will decrease life of filters.
Please note, that Reverse Osmosis membrane is only capable of producing limited amounts of water per hour. If you have a need for a continuous supply of filtered water (for instance if it is located in a kitchen area or a busy lobby), we recommend a
Turbo Ultrafiltration bottleless water cooler
instead.
Optional components: because reverse osmosis system removes a lot from water, including beneficial minerals such as calcium and magnesium, water produced will have flat taste. We strongly recommend buying an optional alkalizer + remineralizer cartridge CQ-RC-04054 (see below). We will install it!
Each unit undergoes a thorough 72-hour manufacturer test before being shipped to you.
Manufacturer's Warranty:
1 year for the complete system, not including replaceable filter media. 3 year warranty on compressor.
NOTE: Please call the number in the manual
during installation
for technical assistance and any questions you may have regarding installation, configuration and operation of the unit.
Product Numbers: Regular - CQE-WC-00907, Premium - CQE-00907-PR, CQE-WC-00907-PR, CQP-WC-05901