Countertop Water Filter with 2 replaceable Cartridges and 7-stage of filtration. This filter produces water of excellent quality without complex plumbing. Great 2-filter system effectively eliminates hundreds of contaminants from water, and produces water of great taste and pureness. Attractive and convenient design, connects to almost any kitchen faucet (except pull-out). The solid state water filter uses latest technologies that blend the absorption capabilities of coconut shell activated carbon with REDOX / KDF media.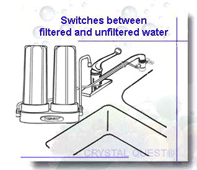 2-cartridge system with 7 stages of water filtration, easily connects to any kitchen faucet.
First, a 5-micron solid Carbon Block cartridge is used for removing (or greatly reducing) of Volatile Organic Compounds (VOCs), insecticides, pesticides, and industrial solvents.
Second, a 6-stage cartridge is used to effectively remove or reduce hundreds of contaminants. Cartridge consists of 1 micron pads, KDF55, KDF85, GAC and ion exchange layers
A diverted valve near the aerator switches between filtered and unfiltered water.
7-Stage Countertop Water Filter Specifications:
Flow rate:
0.5 to 0.75 gallon per minute, best performance at 0.5 gpm
5 micron carbon block filter: 6-9 months
W10-PLUS (6-stage cartridge is CQ-RC-PL-10): 10,000 gallons, (replace every 1-2 years)
W10-ULTRA (6-stage cartridge is CQ-RC-UL-10): 20,000 gallons (replace every 2-3 years)
W10-ULTIMATE (6-stage cartridge is CQ-RC-UM-10): 30,000 gallons (replace every 2-4 years)
Mfg product numbers: CQE-CT-00106 (PLUS), CQE-CT-00107 (ULTRA), CQE-CT-00108 (ULTIMATE)