Paragon Shower Replacement Cartridge










Dimensions:
4.5x2.5x2.5
Single Filter
SKU: P2201RC
Weight:
1 LBS.
Price:
Price: $19.95


On Sale For: $18.95

3-pack
SKU: P2201RC-3
Weight:
3 LBS.
Price:

$46.00

Email

---
Shower Filter Replacement Cartridge for Paragon Shower Filter models P2200, P2201 and P2301C. Also fits SINGER and OMNI OMN SF100 units.
P2201RC is a 30,000 gallon replacement cartridge that will fits multiple shower filters, this unit will last for up to 1 year for a family of four (depending on water quality and usage). New improved formula will give you softer hair and skin! Economical, easy to install.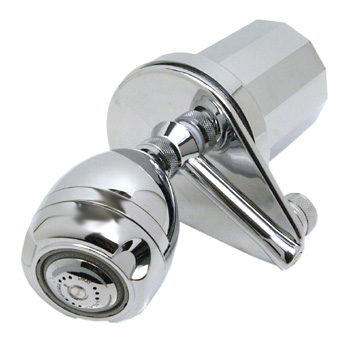 Paragon P2301 shower filter, chrome
What Shower Filter Can Do:
Reduces over 95% Chlorine for 30,000 gallons!
Reduces Hydrogen Sulfide
Restores Natural Softness to Hair, Scalp and Skin by removing harsh, drying chemicals from the water
May help reduce Acne and Eczema
Reduces water-borne Radon
Filter active ingredients: GAC and KDF
Dimentions: 4.5" width, 4.5" height, 2.5" diameter.
Assembled dimentions (with a housing, sold separately): 5" width and height, 3.5" diameter.