Filtered Water Coolers, Bottleless Water Dispensers
Categories
Sections
Commercial Case Studies
Finally there's a solution to clean tasty water on demand - Bottleless Water Coolers, also known as Point-of-Use Water Coolers (POU).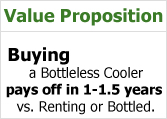 Enjoy filtered water 24 hours a day and not worry about running out of clean drinking water! Plumbed directly into a cold water line and use state of the art filtration systems. Save money and forget about storing water bottles, our Bottleless Hot and Cold Water Coolers are a hot new technology that is taking drinking water market by storm! A regular 4-stage filtration, or Reverse Osmosis (RO) models are available.
Bottleless Water Dispensers
are shipped from several warehouses directly to your home or office. Why use bottles or rent when you can own these simple to use, great looking water machines!
Trust us, we've sold thousands of them. Our displayed
Prices, plus

low cost flat rate shipping in Continental USA is your total cost
, what you see is what you pay, no gimmicks.
Home and Office Water Coolers
Best Water Coolers, Performance
. If you need high filtered water output, our best performing models are FW-500 High Capacity,
FW-2000
and our newest model,
FW-2500 with 3 gallon tank
. FW-500 has built-in scale prevention and will perform very well in California, Arizona, Florida and other locations where scale and mineral deposits are a problem.
Sharp Ultrafiltration Cooler
and
Turbo Ultrafiltration Cooler
have largest filters that will last longest before replacement. If you need the best performing model with Reverse Osmosis system, look at
FW-2000 filtered cooler
and FW-2500, or any of our FW- filters with Reverse Osmosis filtration system, and select a high performance 180 gallons per day membrane.
---
Ultraviolet Water Sterilizer 1 GPM
SKU: CQ-UV-1GPM


Ultraviolet Water Sterilizer

is specifically designed to remove microorganisms that can range from bacteria and viruses to algae and protozoa. It's advanced UV treatment is capable of...


Read more

Price: $169.00

---

Leak Detection, Flood Prevention Valve
SKU: CQE-PT-03060


Leak detection, Flood prevention valve for Crytsal Quest bottleless water coolers. The valve will detect any leaks that occur within a water cooler, such as loose supply line or moisture inside Bottleless Water Cooler or under sink where your...




Read more

Price: $59.00

---

Ozonator Water Sterilizer
SKU: CQE-OZ-00101


Ozonator water sterilizer is used on water coolers and inline water systems to remove bacteria and other biological matter. Ozonator automatically sterilizers Water Cooler or other water filter system by a burst of ozone into a water tank and/or a system....




Read more

Price: $89.00