Finally there's a solution to clean tasty water on demand - Bottleless Water Coolers, also known as Point-of-Use Water Coolers (POU).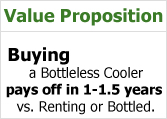 Enjoy filtered water 24 hours a day and not worry about running out of clean water! Plumbed directly into your cold water line and use advanced water filtration systems. Save money and forget about storing water bottles, our Bottleless Hot and Cold Water Coolers are a hot new technology that is taking drinking water market by storm! A regular 4-stage filtration, or Reverse Osmosis (RO) models are available.
Bottleless Water Dispensers
are shipped from several warehouses directly to your home or office. Why use bottles or rent when you can own these simple to use, great looking machines!
FW-500 Bottleless Water Cooler
SKU: FW-500


Bottleless Water Cooler with 4-stage Reverse Osmosis or 3-stage sub-micron Ultra Filtration System. LG controller, built-in anti-scale technology and numerous upgrades! An excellent starter system with great design and mechanical cold and hot water spouts. Guaranteed...

(read more...)

Our Price: $405.00


---

G3 Bottleless Water Cooler
SKU: GW-G3


Bottleless Water Cooler with 4-stage Reverse Osmosis or 3-stage sub-micron Ultra Filtration System. An excellent starter system with great design and mechanical cold and hot water spouts. Guaranteed quality, reliability and easy serviceability of this...

(read more...)

Our Price: $405.00


---

G4 Bottleless Water Cooler with Filter
SKU: GW-G4


G4 Bottleless Water Cooler with 4-stage Reverse Osmosis or 3-stage sub-micron Ultra Filtration System. Cutting edge design, winner of a design award and a superb filtration technology combined into one point-of-use water cooler. Microprosessor-controled...

(read more...)

Our Price: $555.00


---

FW-1500F Bottleless Water Cooler with Filter
SKU: FW-1500


FW-1500F Bottleless Water Cooler with a 3-stage sub-micron Ultra Filtration System. Cutting edge design, superb filtration technology and high end components - all combined into one exceptional product! Guaranteed quality, reliability and easy serviceability of this...

(read more...)

Our Price: $565.00


---

G5 Bottleless Water Cooler with Filter
SKU: GW-G5


G5 Bottleless Water Cooler with 4-stage Reverse Osmosis or 3-stage Sub-micron Filtration System. Large tanks, hot, cold and ambient water outputs. Cutting edge design, winner of a design award and a superb filtration technology combined into one point-of-use...

(read more...)

Our Price: $585.00


---

Sharp Ultrafiltration Water Cooler
SKU: CQ-UFWC-SHARP


Floor

Sharp UltraFiltration

Bottleless Water Cooler with 4-stage filtration. Connects to cold water line for continuous water supply. A space and money saver, this unit is capable of providing a busy office of up to 30 people with...

(read more...)

Our Price: $610.00


---

Sharp Reverse Osmosis Water Cooler
SKU: CQE-WC-00910


Floor

Sharp Reverse Osmosis and Ultrafiltration

Bottleless Water Cooler combo with 4 filters and a Reverse Osmosis membrane. Connects to cold water line for continuous water supply. A space and money saver, this unit is capable of...

(read more...)

Our Price: $665.00


---

Turbo Ultrafiltration Water Cooler
SKU: CQE-WC-00906


Floor

Turbo UltraFiltration

Bottleless Water Cooler with 4-stage filtration. Connects to cold water line for continuous water supply. A space and money saver, this unit is capable of providing a busy office of up to 30 people with...

(read more...)

Our Price: $610.00


---

Turbo Reverse Osmosis Water Cooler
SKU: CQE-WC-00907


Floor

Turbo Reverse Osmosis and Ultrafiltration

Combo

Water Cooler with 4-stage filtration. Connects to cold water line for continuous water supply. A space and money saver, this unit is...

(read more...)

Our Price: $665.00


---

Hybrid Ultrafiltration Bottleless Water Cooler
SKU: CQE-WC-00900


Floor

Hybrid UltraFiltration

Bottleless Water Cooler with 4-stage filtration. Connects to cold water line for continuous water supply. A space and money saver, this unit is capable of providing a busy office of up to 30 people with...

(read more...)

Our Price: $610.00


---

Hybrid Reverse Osmosis Bottleless Water Cooler
SKU: CQE-WC-00902


Hybrid

Reverse Osmosis and

UltraFiltration

Floor Water Cooler. This water cooler needs no bottles! Bottle-less floor water cooler that is plumbed directly into your cold water line for continuous...

(read more...)
Our Price: $665.00


---

Elegant UltraFiltration Bottleless Water Cooler
SKU: CQ-ELEGANT-FWC


Microprocessor Controlled, Elegant Floor Bottleless Water Cooler with 4-stage water filtration. Connect to cold water line for continuous water supply, or pour water through the top and wheel to desired location, such as conference...

(read more...)

Our Price:

$860.00


Sale Price: $780.00


---

G4 CounterTop Water Cooler Bottleless
SKU: GW-G4CT


New for 2012 - G4 Countertop Bottleless Water Cooler with 2-stage Regular or 3-stage Reverse Osmosis filtration system. Cutting edge design, winner of a design award and a superb filtration technology combined into one point-of-use water cooler. Guaranteed quality,...

(read more...)

Our Price: $549.00


---

G5 CounterTop Water Cooler Bottleless
SKU: GW-G5CT


G5 Countertop Bottleless Water Cooler with 2-stage Regular or 3-stage Reverse Osmosis filtration system. Cutting edge design, winner of a design award and a superb filtration technology combined into one point-of-use water cooler. Guaranteed quality, reliability and easy...

(read more...)

Our Price: $599.00


---

Turbo Countertop Water Cooler
SKU: CQE-WC-00908


This water cooler needs no bottles!

Turbo 5-stage

Bottleless Counter Top Water Cooler that is plumbed directly into your cold water line for continuous water supply.

Countertop Water Cooler filtration...

(read more...)

Our Price: $519.00


---

Ultraviolet Water Sterilizer 1 GPM
SKU: CQ-UV-1GPM


Ultraviolet Water Sterilizer System is a great add-on to any Under sink systems, Bottleless Water Coolers, or can be used as a standalone device. Installed by manufacturer into any Crystal Quest products.

This Ultraviolet Water...

(read more...)

Our Price:

$149.00


Sale Price: $139.00


---

Ozonator Water Sterilizer
SKU: CQE-OZ-00101


Ozonator water sterilizer is used on water coolers and inline water systems to remove bacteria and other biological matter. Ozonator automatically sterilizers Water Cooler or other water filter system by a burst of ozone into a water tank and/or a system....

(read more...)

Our Price: $59.00

---

Water Cooler Deinoizer
SKU: FW-DI-01


A de-ionizer for Bottleless Water Coolers. This is an add-on to the coolers that removes final impurities and is great for commercial applications where pure water is essential, such as doctor's and dental offices, laboratories, research...

(read more...)

Our Price: $50.00

---

Water Cooler Reverse Osmosis Upgrade Kit
SKU: FW-RO-01


A Reverse Osmosis upgrade Kit for FilterWater and G- Bottleless Water Coolers. This is an add-on to the coolers that removes final impurities and is great for applications where pure water is essential. Kit can be installed in the...

(read more...)

Our Price: $110.00


---

Leak Detection, Flood Prevention Valve
SKU: CQE-PT-03060


Leak detection, Flood prevention valve for Crytsal Quest bottleless water coolers. The valve will detect any leaks that occur within a water cooler, such as loose supply line or moisture instide Bottleless Water Cooler or under sink where your...

(read more...)

Our Price: $59.00

---

Cup Holder
SKU: CQE-PT-03059


Cup Holder for Crystal Quest Bottleless Water Coolers, also will fit many other bottle-less and regular water coolers. Cup holders can be used with Crystal Quest coolers, or with other bottle less and bottled coolers.

Cup holder...

(read more...)

Our Price: $29.00

---

Paper Cups
SKU: CQE-PT-03061


5 oz. papper cups for Bottled and Bottleless Water coolers. Cups are inserted into a

bottleless cooler cup holder

that gets attached to the side of a regular or filtered water cooler.

Quanity: set of 100...

(read more...)

Our Price: $14.95

---

Spout For Crystal Quest Water Cooler
SKU: CQE-PT-03176


Spout for Crystal Quest Sharp and Hybrid Bottleless Water Coolers. Available in Hot (CQE-PT-03177) or Cold (CQE-PT-03176). This replacement part is designed for Sharp and Hybdrid Filtered Water Coolers only, will not fit a generic or other brand water...

(read more...)

Our Price: $12.95

---

G4 Water Cooler Parts
SKU: GW-G4-P1


G4 Bottleless Water Cooler Parts.



(read more...)
Our Price: $19.99